Are you facing "Error Code 83" in Disney Plus app? Don't worry! You're not alone. Disney+ is a subscription video-on-demand over-the-top streaming. Disney Plus Error Code 83 means that the app is having an issue with the specific device you are using to streaming. in Simple word Disney Plus Error Code 83 is Device compatibility issue.
Users are getting "Something went wrong. Please try again. If the problem persists, visit the Disney+ Help Center (Error Code 83)." error message on their streaming devices such as Android TV, Firestick, PS4, PS5, Steam Deck, Samsung TV, Android Phone, iPhone and iPad.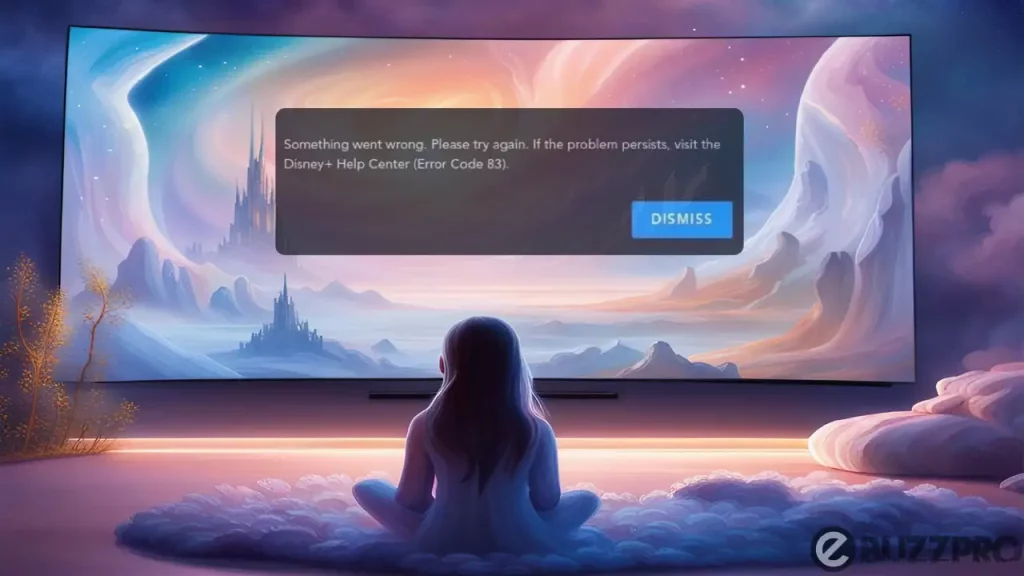 So If you're also a victim of Disney Plus App Error Code 83 issue, So this article could help you to get rid from this Disney Plus Error Code 83 problem.
What Could be Reasons for Disney Plus Error Code 83?
There are a few reasons why you might be getting the Disney Plus Error Code 83. Some of the most common reasons include.
Internet Connection Issues – If you are not connected to a strong internet connection, you may experience playback errors. Make sure that your internet connection is working properly and that you have a good signal strength.
Device Incompatibility – Error Code 83 usually means that the app thinks you are using an incompatible device. This could be because your device is not on the list of supported devices, or because your device is not running the latest firmware.
Software Problems – There may be a problem with the Disney Plus app or your device's software. Try restarting your device or reinstalling the app.
Regional Restrictions – Disney Plus is not available in all countries. If you are trying to watch Disney Plus from a country where it is not available, you may get an error message.
How to Fix "Disney Plus Error Code 83" Problem?
If you are experiencing issues with the Disney Plus Error Code 83, here are some possible ways to fix this Disney Plus Error Code 83 problem.
1. Check Disney Plus Service Status

Before proceeding with any troubleshooting steps, ensure that Disney Plus itself is not experiencing widespread issues. You can check their official social media accounts or visit websites that track the status of online services to see if others are reporting similar problems.
2. Check Your Internet Connection

A stable and reliable internet connection is crucial for streaming services. Make sure you have a strong and consistent internet connection by testing it on other devices or running a speed test.
3. Clear Disney+ App's Cache and Data

If still you're experiencing Disney Plus Error Code 83 issue, Sometimes clearing cache & data of app can resolve this error code issue. To clear the cache of Disney+ App, Go to > Settings > Apps > Disney+ > Clear Cache.
4. Check Device Compatibility

Ensure that the device you're using to stream Disney Plus is supported and meets the minimum system requirements. Outdated or unsupported devices might encounter compatibility issues.
5. Update the Disney Plus App

Ensure that you have the latest version of the Disney Plus app installed on your device. Developers regularly release updates to fix bugs and improve the app's performance.
6. Restart Your Device and the Disney Plus App

This is a simple but often effective way to fix many streaming errors. To restart your device, simply turn it off and then back on again. To restart the Disney Plus app, open the app and then close it.
7. Wait for Disney Plus to Fix the issue
If the error is on Disney Plus's end, there may be nothing you can do to fix it. In this case, you'll just need to wait for Disney Plus to fix the problem.
8. Contact Disney Plus Support
If the issue persists after trying the above steps, reach out to Disney Plus customer support for further assistance. They can provide specific troubleshooting steps based on your situation.
---
Conclusion – Friends, how did you like this "Disney Plus Error Code 83" article? Do tell us by commenting below. Also, do share the post with your friends.
Join Instagram, If You Like This Article Follow Us on Twitter, Facebook, Join Telegram and Subscribe Our YouTube Channel. We Will Keep Bringing You Such Updates.