Google Announced "Help Me Write" AI Feature in Gmail. During Google I/O 2023, Google unveiled a it's new Gmail feature named Help Me Write. it a an AI feature in the Gmail. The new Gmail feature "Help Me Write", uses artificial intelligence to generate email drafts based on a user's input.
Sundar Pichai, the CEO of Google & Alphabet says the company has now made writing mails so much easier. During the event he announced the launch of "Help me write," which is an AI-powered feature part of Gmail that can generate instant responses to emails-virtually in seconds.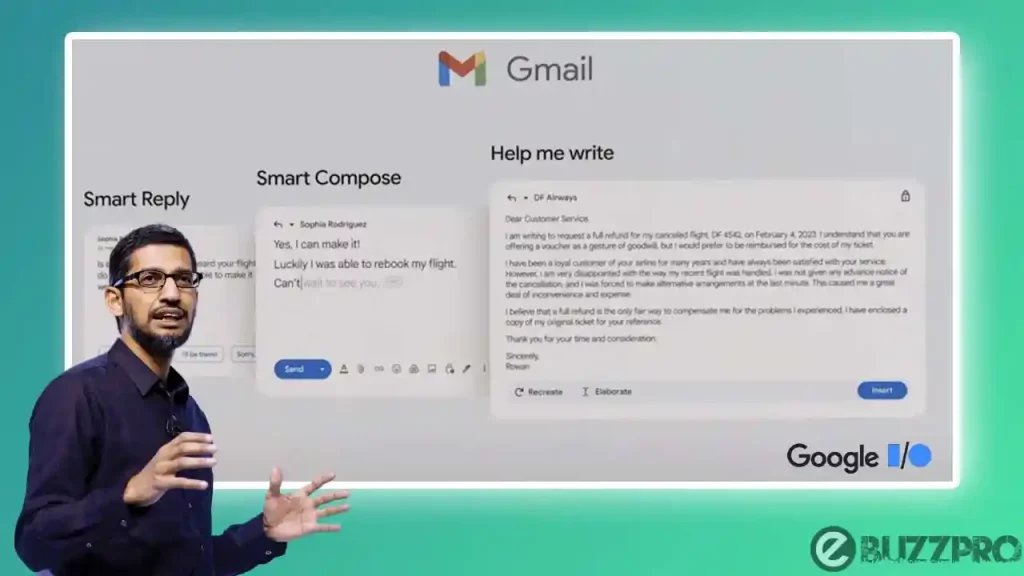 At Google I/O 2023 Event, Sundar Pichai used the example of asking an airline for a refund for a flight. Using past exchanges with the airline, the AI tool creates an entire email asking for a refund. Not only this, there is an additional feature of refining the email by formalizing it, shortening, or elaborating the same.
To use Help Me Write AI feature in Gmail, users simply need to start typing an email and then click on the "Help Me Write" button. The AI will then generate a draft of the email, which the user can then edit and finalise.
Help Me Write AI feature will start rolling out as part of our Workspace updates in the coming months. It is likely that the feature will be available to both web and mobile users of Gmail.
Help Me Write has been available for trusted testers with Google Docs and Gmail since March.
Read : Android 14 uses AI to create custom wallpapers
Join Instagram, If You Like This Article Follow Us on Twitter, Facebook, Join Telegram and Subscribe Our YouTube Channel. We Will Keep Bringing You Such Updates.