Way to Change UPI PIN on WhatsApp – Hello friends! Welcome to the eBuzzPro.com blog. And in today's article we will know that "How to Change UPI PIN on WhatsApp"? Friends, this is the era of technology. And in such a situation, technology is also being used in large quantities in India.
And in the era of this Pandemic Covid-19, there has been a lot of boost in the digital payment system. And UPI (Unified Payments Interface) has made digital payment a reality in India. Talking about UPI, there are UPI based apps like Paytm, PhonePe, Google Pay, Amazon Pay as well as many other apps.
But now it was the turn of WhatsApp. So WhatsApp has also launched a UPI payment system on its platform called WhatsApp Pay. And now a large population in India is now using PhonePe, Paytm and Google Pay as well as WhatsApp Pay.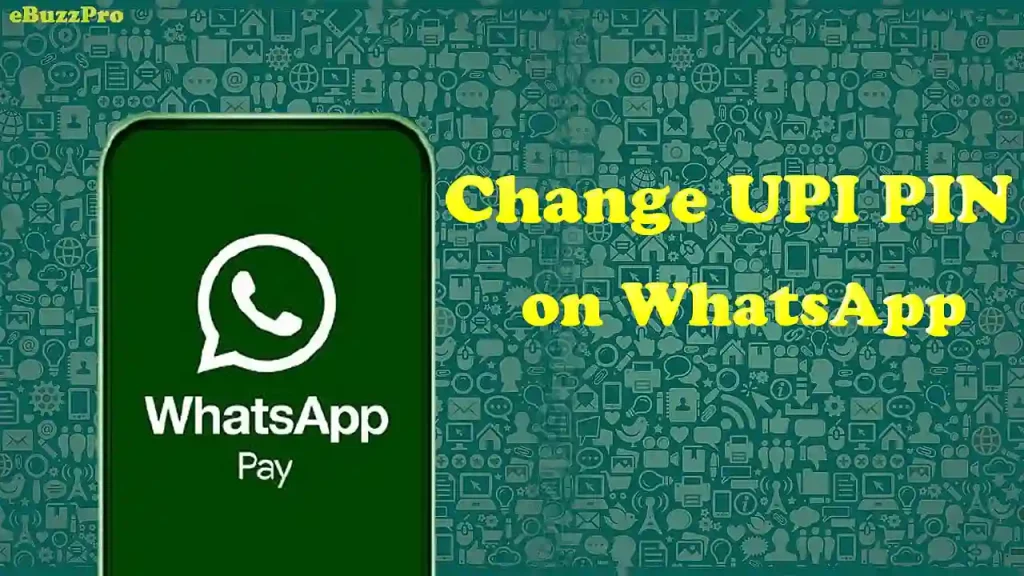 Change or Reset UPI PIN using WhatsApp
If you use any UPI related app. So you must know that to make any kind of payment through UPI, you have to enter your own UPI PIN. Only then we can successfully make payment to anyone. And in such a situation, many times you forget the UPI PIN.
Either you want to change your UPI PIN for some reason. So in such a situation you do not know that "How to change or reset UPI PIN using WhatsApp Pay"? So don't worry at all. Because below I have told you step-by-step in detail how you can change your UPI PIN using your WhatsApp Pay.
How to Change UPI PIN on WhatsApp?
Step 1 – Open the WhatsApp app on your Android smartphone.
Step 2 – Then tap on the three dots (⋮) icon at the top right and then tap on Payments.
Step 3 – Under the Payments section, tap on the bank account for which you wish to change the UPI PIN number.
Step 4 – Then tap on Change UPI PIN.
Step 5 – Up next, enter the existing UPI PIN and then enter a new UPI PIN.
Step 6 – Confirm the new UPI PIN number and you are all set.
How to Reset UPI PIN on WhatsApp?
Launch WhatsApp on your smartphone.
Now tap on More Options that appears as three dots and tap on Payments.
You will then need to choose the bank account of which you have forgotten your UPI PIN number.
Then next, tap on Forgot UPI PIN.
Then tap on CONTINUE. Enter the last 6-digits of your debit card number and the expiration date.
Note: Some banks might require you to enter the CVV number of your card.
---
Conclusion – Friends, you have got this "How to Change UPI PIN on WhatsApp" How was the article? Do tell us by commenting below. And if you like this post, please share it as much as possible.
Join Instagram, If You Like This Article Follow Us on Twitter, Facebook, Join Telegram and Subscribe Our YouTube Channel. We Will Keep Bringing You Such Updates.