KBC Offline Quiz Answers 2021 – Hello Friends! Welcome to the eBuzzPro.com blog. And in today's article we will know about "KBC Offline Quiz Answers Today 22 October 2021". Well, nowadays along with KBC Online Quiz, KBC Offline Quiz is becoming very viral very fast.
As you know, the KBC Season 13 hosted by Amitabh Bachchan has started. And with this the KBC (Kon Honaar Crorepati) season has also started in Marathi language. So below I have told you "Kaun Banega Crorepati 13 Offline Quiz Answers". So below you have to read KBC 13 Offline Quiz Answers carefully. Let me tell you that kbc 13 first crorepati himani bundela win kbc 1 crore. kbc offline quiz answers 22 Oct 2021
Also Read | boAT Storm Smartwatch Review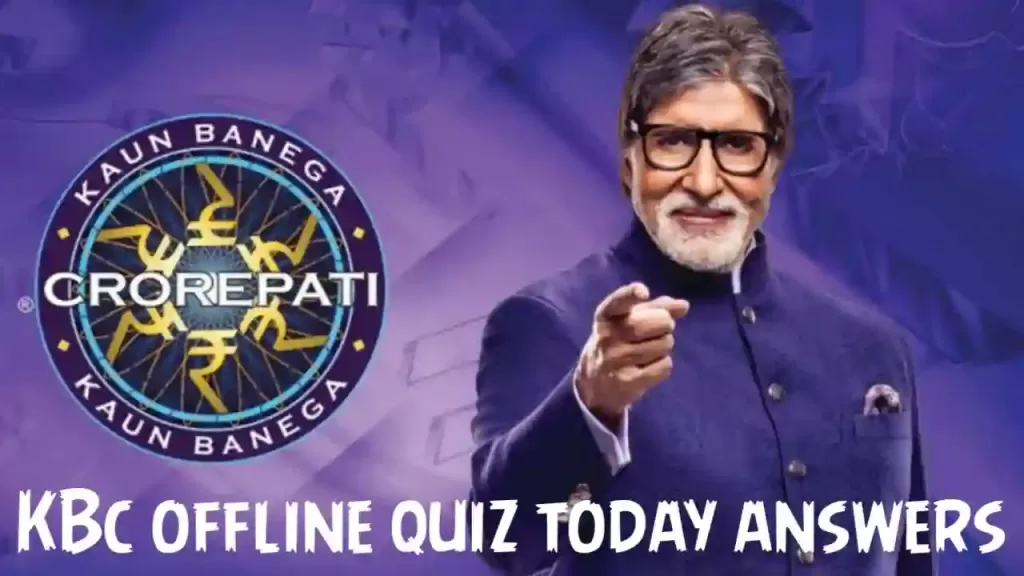 KBC Offline Quiz Answers Today 22 October 2021
Q 1. In FY21, fresh cut jasmine flowers, bouquets and other traditional flowers were exported to countries such as the US, UAE, Singapore, among others from which state?
A. Kerala
B. Tamil Nadu
C. Andhra Pradesh
D. Karnataka
Answer – Tamil Nadu
Q 2. What is the Physical basis of life called?
A. Protoplasm
B. Cytoplasm
C. Organelles
D. None of These
Answer – Protoplasm
Q 3. Which bank is the first to introduce ATM in India?
A. ICICI
B. HDFC
C. SBI
D. HSBC
Answer – HSBC
Q 4. Who recently completed Golden hat-trick at Archery World Cup?
A. Atanu Das
B. Deepika Kumari
C. Pravin Jadhav
D. Tarundeep Rai
Answer – Deepika Kumari
Q 5. Which county is called "Land of Fire and Ice"?
A. Iceland
B. Scotland
C. New Zealnad
D. Ireland
Answer – Iceland
Q 6. What are the names of the two identical long tailed macaques cloned by the Chinese Scientist?
A. Rongla and Shamone
B. Long Hong and Zhua Zhua
C. Zhong-Zhong and Hua Hua
D. Tailong and Shanua
Answer – Zhong-Zhong and Hua Hua
Q 7. Which of the Following book is written by Nirad C. Choudhury?
A. A Passage to England
B. Asian Drama
C. The Alchemist
D. We the People
Answer – A Passage to England
Q 8. Which Buddhist Council was held in Kashmir?
A. First
B. Second
C. Third
D. Fourth
Answer – Fourth
Q 9. Which is the Smallest and Southernmost region of Mainland Portugal, known primarily for tourism?
A. Algarve
B. Azores
C. Madeira Islans
D. Alentejo
Answer – Algarve
Q 10. Who is the director of "Decoding Shankar" – a Documentry on singer Shankar Mahadevan that won Best Biography Film Award at the Toronto Internatonal Women Film Festival 2021?
A. Sanjay Leela Bhanshali
B. Karan Johar
C. Meghna Gulzar
D. Deepti Pillay Sivan
Answer – Deepti Pillay Sivan
---
Conclusion – Friends, you have got this "KBC Offline Quiz Answers Today 22 October 2021"? How was the article? Do tell us by commenting below. And if you like this post, please share it as much as possible. kbc play along offline quiz answers
Join Telegram, If You Like This Article Follow Us on Instagram, Twitter, and Facebook. We Will Keep Bringing You Such Articles.