KBC Offline Quiz Answers 2021 – Hello Friends! Welcome to the eBuzzPro.com blog. And in today's article we will know about "KBC Offline Quiz Answers Today 26 November 2021". Well, nowadays along with KBC Online Quiz, KBC Offline Quiz is becoming very viral very fast.
---
As you know, the KBC Season 13 hosted by Amitabh Bachchan has started. And with this the KBC (Kon Honaar Crorepati) season has also started in Telugu-Marathi language. So below I have told you "Kaun Banega Crorepati 13 Offline Quiz Answers". So below you have to read KBC 13 Offline Quiz Answers carefully. Let me tell you that kbc 13 first crorepati himani bundela win kbc 1 crore. kbc offline quiz answers 26 nov 2021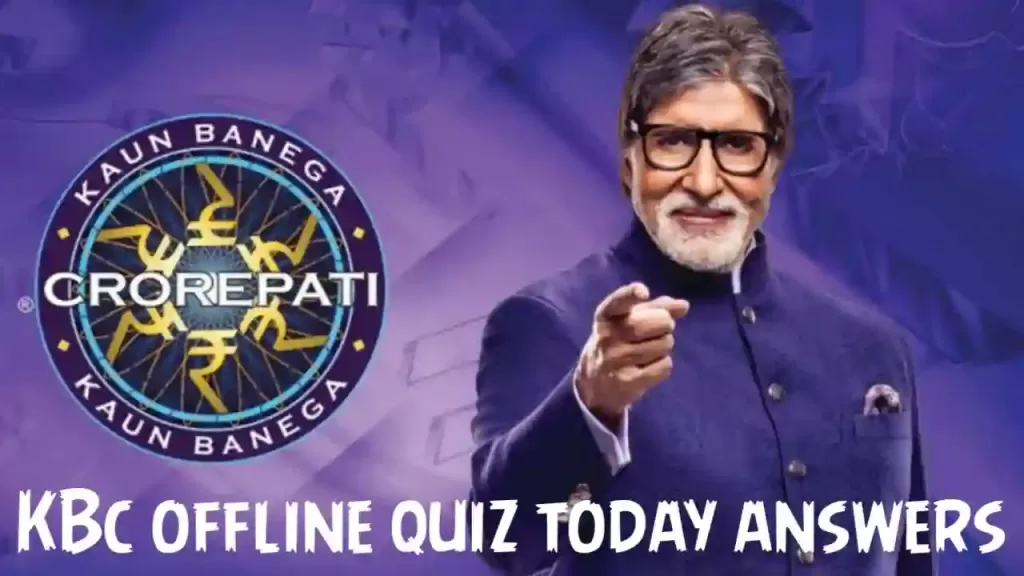 KBC Offline Quiz Answers Today 26 November 2021
Q 1. Which Brazilian footballer played in the Indian Football League 2002?
A. Jose Ramirez Barreto
B. Robert Carlos
C. Pele
D. Cafu
Answer – Jose Ramirez Barreto
Q 2. The "Scorched Earth" policy Java was followed by whom?
A. Japanese
B. British
C. French
D. Dutch
Answer – Dutch
Q 3. Any lost or abandoned fishing gear that continues to trap and kill marine life is known ad?
A. Trolling
B. Fly-Fishing
C. Ghost Fishing
D. Spinning
Answer – Ghost Fishing
Q 4. Who is the author of the famouse statement, " That Government is the best wich governs least"?
A. Herbert Spencer
B. Harold Laski
C. Alexis De Tocqueville
D. Henry David Thoreau
Answer – Henry David Thoreau
Q 5. In which year did the Chernoby, Nuclear accident take place?
A. 1984
B. 1985
C. 1986
D. 1990
Answer – 1986
Q 6. National Stock Exchange (NSE) has acquire a ___ percentage equity stake in the Indian Gas Exchange (IGX)?
A. 16%
B. 26%
C. 36%
D. 56%
Answer – 26%
Q 7. Which of the following actor has won the lifetime achivement award at the 2018 "Political and Public Life Award" in UK?
A. Amitabh Bachchan
B. Boman Irani
C. Jackie Shroff
D. Shatrughan Sinha
Answer – Shatrughan Sinha
Q 8. A Biological process by which an animal physically develops after birth or hatching is known as?
A. Adolescence
B. Fertilization
C. Metamorphosis
D. None of the Above
Answer – Metamorphosis
Q 9. Who is the first Indian Woman in the world to swim across the seven important seas?
A. Bula Choudhury
B. Shivani Kataraia
C. Meena Patel
D. Dolly Nazir
Answer – Bula Chaoudhry
Q 10. The Gayatri Mantra is in which of the following Vedas?
A. Samaveda
B. Yajurveda
C. Rig Veda
D. Atharvaveda
Answer – Rig Veda
---
Conclusion – Friends, you have got this "KBC Offline Quiz Answers Today 26 November 2021"? How was the article? Do tell us by commenting below. And if you like this post, please share it as much as possible. kbc play along offline quiz answers 27 November 2021
Join Telegram, If You Like This Article Follow Us on Instagram, Twitter, and Facebook. We Will Keep Bringing You Such Articles.