KBC Offline Quiz Answers 2021 – Hello Friends! Welcome to the eBuzzPro.com blog. And in today's article we will know about "KBC Offline Quiz Answers Today 29 September 2021". Well, nowadays along with KBC Online Quiz, KBC Offline Quiz is becoming very viral very fast.
As you know, the KBC Season 13 hosted by Amitabh Bachchan has started. And with this the KBC (Kon Honaar Crorepati) season has also started in Marathi language. So below I have told you "Kaun Banega Crorepati 13 Offline Quiz Answers". So below you have to read KBC 13 Offline Quiz Answers carefully. Let me tell you that kbc 13 first crorepati himani bundela win kbc 1 crore. kbc offline quiz answers 29 sep 2021
Also Read | How to Delete Call History from My Jio App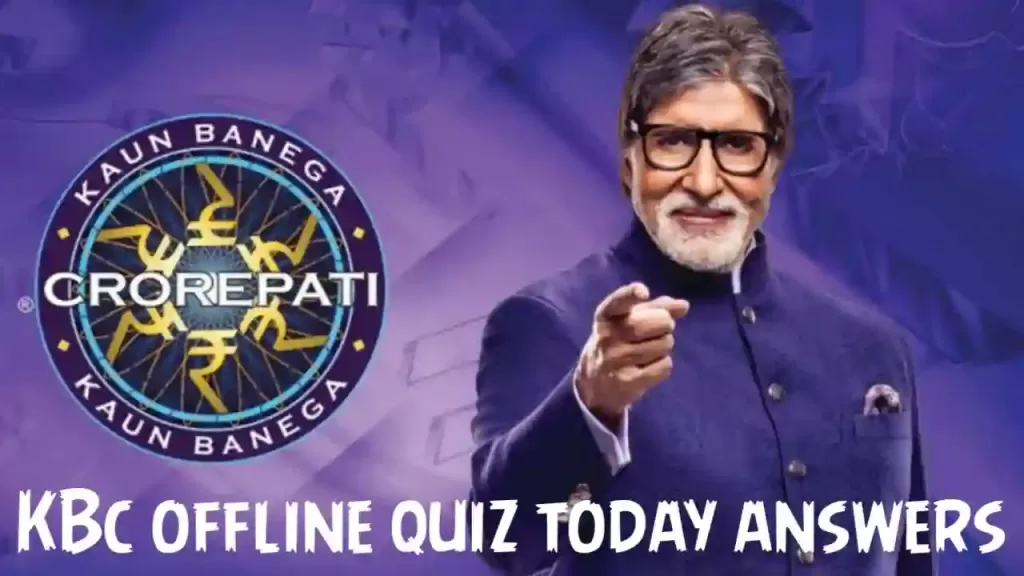 KBC Offline Quiz Answers Today 29 September 2021
Q 1. Which of the following pairs are not associated with each other?
A. Ranthambore Tiger Projet-Gujarat
B. Dachigam Sanctuary-Jammu & Kashmir
C. Madhav National Park-Madhya Pradesh
D. Periyar Sanctuary-Kerala
Answer – Ranthambore Tiger Projet-Gujarat
Q 2. Which Ministry has launched the convergence of the ESI scheme with Ayushman Bharat PM-JAY?
A. Ministry of Home Affairs
B. Ministry of Social Justice
C. Ministry of Labour and Employment
D. Ministry of Health and Family Welfare
Answer – Ministry of Labour and Employment
Q 3. Which Bollywood movie got a nomination in the Oscors for the Best Foreign Language Film in 2020?
A. Bhagat Singh
B. Lagaan
C. Aankhen
D. 16 December
Answer – Lagaan
Q 4. What bird is the international symbol of happiness?
A. Bluebird
B. Hummingbird
C. Sparrow
D. Peacock
Answer – Blurbird
Q 5. Where was the first factory in India eastablished by the East India Company?
A. Chennai
B. Mumbai
C. Bhopal
D. Surat
Answer – Surat
Q 6. Which is the tallest Himalayan mountain in the Indian Territory?
A. Mount Everest
B. Mount Godwin Austen (K2)
C. Kangchanjunga
D. Nanga Parbat
Answer – Kangchanjunga
Q 7. Who is the head of the ecpert advisory committee set up for the Startup India Seed Fund Scheme?
A. Injeti Srinivas
B. S C Khuntia
C. Gita Gopinath
D. H K Mittal
Answer – H K Mittal
Q 8. Which actor is popularly known as the Khiladi of Bollywood?
A. Ajay Devgn
B. Sanjay Dutt
C. Akshay Kumar
D. Salman Khan
Answer – Akshay Kumar
Q 9. Which sport is associated with Holkar Trophy?
A. Bridge
B. Hockey
C. Football
D. Badminton
Answer – Bridge
Q 10. Who is the known as the Father of Economics?
A. Alfred Marshall
B. Amartua Sen
C. Karl Marx
D. Adam Smith
Answer – Adam Smith
---
Conclusion – Friends, you have got this "KBC Offline Quiz Answers Today 29 September 2021"? How was the article? Do tell us by commenting below. And if you like this post, please share it as much as possible. kbc play along offline quiz answers
Join Telegram, If You Like This Article Follow Us on Instagram, Twitter, and Facebook. We Will Keep Bringing You Such Articles.