Boost Mobile is a prepaid wireless phone service provider that operates in the United States. The company offers a variety of plans with unlimited talk, text, and data options, as well as mobile hotspots, international calling, and other features. Now plenty of Boost Mobile Service users are facing "Boost Mobile Not Working" issue.
Boost Mobile offers a range of smartphones and other mobile devices for purchase, and customers can bring their own devices as long as they are compatible with the network. So this article will help you to get rid from boost mobile service not working problem.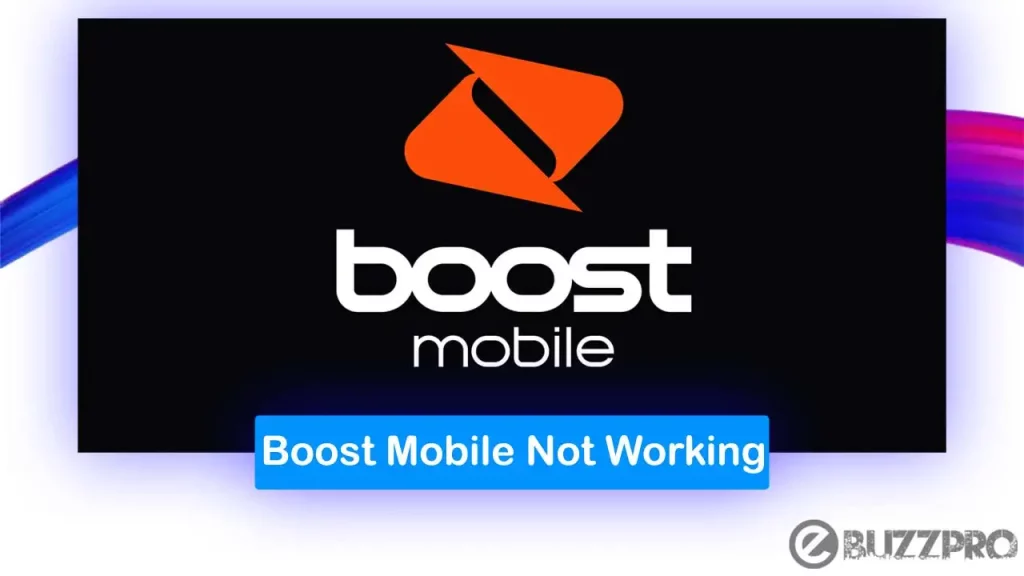 Also Read : Virgin Media WiFi Not Working! Here's How to Fix?
Why is Boost Mobile Not Working Today?
Boost Mobile is known for its affordable pricing and flexibility, making it a popular choice for people who want a low-cost, no-contract wireless service. There could be a number of reasons why is Boost Mobile not working. Here are a few possible reasons.
1. Network Outage
It's possible that there is a temporary network outage in your area, which is preventing Boost Mobile from working properly.
2. Insufficient Balance or Payment
Boost Mobile is a prepaid service, which means you need to have sufficient balance or payment to make calls, send messages, or use data. If you haven't topped up your account or made a payment, your service may be suspended.
3. Device issues
There could be an issue with your device that's preventing Boost Mobile from working properly. For example, your phone may be out of date, or you may have a faulty SIM card.
4. Coverage issues
Boost Mobile may not have coverage in your area, or there may be a weak signal. This can result in dropped calls or slow data speeds.
Also Read : 6 Ways to Fix 'Vodafone WiFi Calling Not Working' Problem
5. Account issues
There may be an issue with your Boost Mobile account, such as a billing error or a problem with your plan.
How to Fix "Boost Mobile Not Working" Problem?
If you're having trouble getting the Boost Mobile Not Working, here are some troubleshooting steps you can try.
1. Restart Your Device
A simple restart can often fix minor software issues. Turn your device off, wait a few seconds, and turn it back on.
2. Update Your Device Software
If your phone or device has a software update available, install it. The update may contain bug fixes or improvements that could resolve the Boost Mobile Not Working issue.
3. Reset Network Settings
Resetting your network settings can also fix connection issues. Go to your device's settings, find the option to reset network settings, and follow the prompts. Note that this will erase your saved Wi-Fi networks and passwords.
4. Clear Cache and Data
Clearing the cache and data of the Boost Mobile app can sometimes fix issues. Go to your device's settings, find the Boost Mobile app, and clear the cache and data.
Also Read : How to Fix "WiFi Authentication Problem" in Android?
5. Check Your Network Settings
If Boost Mobile Not Working, Make sure that your phone's settings are properly configured for Boost Mobile. You may need to update your device's software or configure the APN settings.
6. Check for Account issues
Make sure that your account is in good standing and that you have enough balance or payment to use Boost Mobile. You can check your account status on the Boost Mobile website or app.
7. Contact Customer Support
If none of the above steps work, contact Boost Mobile's customer support team. They can troubleshoot the issue with you and offer solutions specific to your situation.
---
Conclusion – Friends, how did you like this "Boost Mobile Not Working" article? Do tell us by commenting below. Also, do share the post with your friends.
Join Telegram, If You Like This Article Follow Us on Instagram, Twitter, Facebook and Subscribe Our YouTube Channel. We Will Keep Bringing You Such Updates.