Are you experiencing "D4 Error Code 316719" in the Diablo 4 game? Don't worry! you're not alone. Diablo 4 error code 316719 is an error that can occur due to server is lost, causing players to be kicked out of the game.
Before this error code is displayed, you will see "There was an error. (Code 316719)" message. Blizzard said when the error first occurred last weekend that it is working to reduce queue times and improve overall server stability.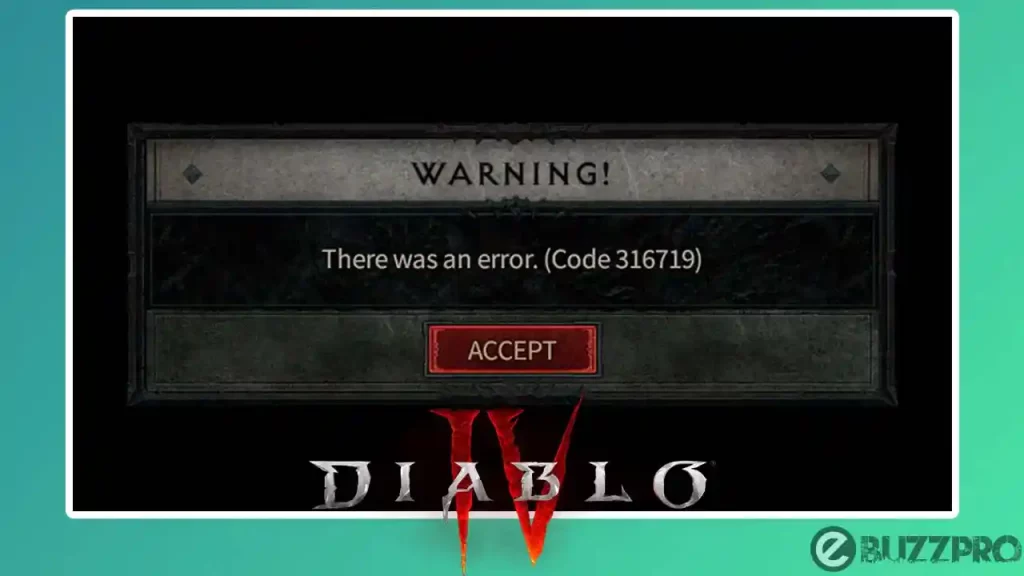 What Could be Reasons for Diablo 4 Error Code 316719 issue?
There could be several reasons why is the Diablo 4 Error Code 316719. Here are a few possibilities.
Internet Problems – If you are experiencing network problems, such as a slow or unstable internet connection, this can also cause the error.
Server Instability – This is the most common cause of the error. It can be caused by a number of factors, such as a high number of players trying to connect to the servers at the same time, or a problem with the servers themselves.
Corrupt Game Files – If your game files are corrupt, this can also cause the error.
Outdated Software – If you are using outdated software, such as an outdated operating system or graphics drivers, this can also cause the error.
How to Fix "Diablo 4 Error Code 316719" Problem?
If you're experiencing issues with an D4 Error Code 316719, here are some steps you can take to try to resolve the Diablo 4 Error Code 316719 problem.
1. Check Your Internet Connection
Make sure that your internet connection is stable and that you have a good signal strength.
2. Restart Your Computer
This can sometimes fix temporary problems with your computer that may be causing the error.
3. Wait for The Servers to Stabilize
If the servers are experiencing a high volume of traffic, this can cause the error to occur. In this case, you may need to wait for the servers to stabilize before you can play the game without any problems.
4. Close Any Unnecessary Programs
Having too many programs running in the background can sometimes interfere with Diablo 4 and cause the error.
5. Verify Your Game Files
If still you're experiencing Diablo 4 Error Code 316719 issue, This will check your game files for any corruption and repair them if necessary.
To verify game files in Diablo 4
Open the Battle.net launcher.
Click on the Games tab.
Select Diablo 4.
Click on the Options (gear icon) in the bottom right corner.
Select Scan and Repair.
Click on the Begin Scan button.
6. Update Your Graphic Drivers
Make sure that you are using the latest version of your operating system, graphics drivers, and any other software that is required to run Diablo 4.
7. Contact Blizzard Support
If the issue persists despite trying the above steps, reach out to the game's support team. Provide them with detailed information about the problem you're facing. They can offer further assistance and investigate the issue.
---
Conclusion – Friends, you have got this "Diablo 4 Error Code 316719" How was the article? Do tell us by commenting below. And if you like this post, please share it as much as possible.
Join Instagram, If You Like This Article Follow Us on Twitter, Facebook, Join Telegram and Subscribe Our YouTube Channel. We Will Keep Bringing You Such Updates.