World of Warcraft (WoW) is a massively multiplayer online role-playing game (MMORPG) developed by Blizzard Entertainment. In WoW, players create and customize their own characters, choosing from a variety of races and classes. Now plenty of World of Warcraft players are facing Error Retrieving Character List WOW issue.
"Error retrieving character list" is an error message that can occur in World of Warcraft (WoW) when the game client is unable to retrieve the list of characters associated with your account.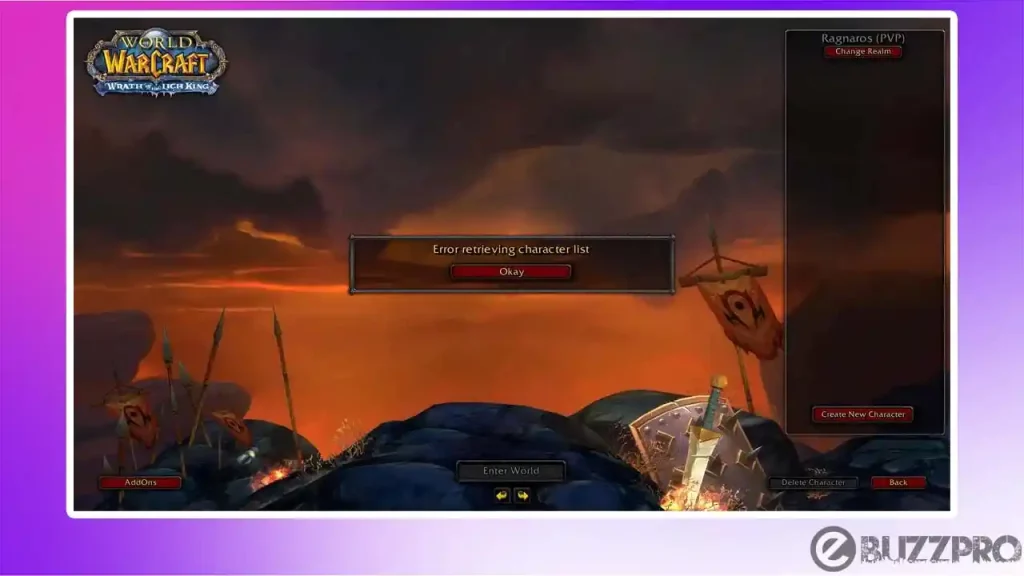 Read : Fix 'Destiny 2 Servers Not Working' Problem
This error can prevent you from logging into the game and accessing your characters, making it difficult to play the game.
Why is Error Retrieving Character List Showing in WOW?
There can be several reasons why you might be encountering the wow error retrieving character list. Some of the most common reasons include.
Server issues – WoW servers can sometimes experience technical problems that prevent players from accessing their characters. This can be due to server maintenance, DDoS attacks, or other server-related issues.
Connection issues – Problems with your internet connection, such as low bandwidth, high latency, or network congestion, can prevent WoW from retrieving your character list. This can also be caused by a firewall or antivirus software blocking WoW's connection.
Account issues – Issues with your account, such as an expired subscription, a banned account, or an account that has been hacked, can cause the error retrieving character list in WoW.
Add-on issues – Add-ons are third-party software that players can install to modify the WoW interface. However, some add-ons can cause problems, such as conflicts with other add-ons, outdated or incompatible versions, or errors that prevent WoW from retrieving your character list.
Corrupted Game Files – Corrupted game files or installation errors can cause the error retrieving character list in WoW. This can be due to incomplete or interrupted updates, problems with your hard drive or RAM, or conflicts with other software installed on your computer.
Recently we covered MW2 Private Match Not Working & MW2 Twitch Drops Not Showing Up topic on our blog.
How to Fix "Error Retrieving Character List" in WOW?
If you are encountering the error retrieving character list wow, there are several steps you can take to try and resolve the wow character list not loading issue. Here are some troubleshooting tips you can try.
1. Restart the Game and Your Computer
Sometimes, restarting the game and your computer can fix the issue. This can clear up any temporary glitches that may be preventing WoW from retrieving your character list.
2. Check Your Internet Connection
Make sure that your internet connection is stable and that there are no issues with your network. If you're using Wi-Fi, try switching to a wired connection to reduce latency and improve stability.
3. Delete the Cache Folder
If still you're experiencing Error Retrieving Character List WOW issue, Deleting your WOW's Cache file can help fix temporary issues with your Wow and may resolve the Error Retrieving Character List.
Close World of Warcraft if it's currently running.
Open your WoW game folder. By default, this is located in the "Program Files (x86)" folder on Windows or the "Applications" folder on Mac.
Open the "Cache" folder.
Select all of the files in the "Cache" folder and delete them. You can do this by pressing the "CTRL" key and clicking on each file, or by using the "Select All" command in the "Edit" menu.
Once all the files have been selected, press the "Delete" key or right-click and select "Delete" from the context menu.
Confirm that you want to delete the files by clicking "Yes" or "OK" when prompted.
Open World of Warcraft and allow it to rebuild the cache files. This may take a few minutes, depending on the size of your cache folder.
4. Disable Any Add-ons
Add-ons can sometimes interfere with the game's interface and cause errors. Try disabling any add-ons that you have installed and see if the problem persists.
Read : Fix 'Destiny 2 Reaper Mod Not Working' Problem
5. Check Your Account Status
Ensure that your WoW account is in good standing, your subscription is up-to-date, and there are no issues with your account. Check your account status on the Blizzard website.
6. Repair or Reinstall the Game Client
Sometimes, the game client files can become corrupted or incomplete, leading to errors like this. You can repair or reinstall the game client to fix any issues with the installation.
7. Contact Blizzard Support
If none of the above steps work, you may need to contact Blizzard support for further assistance. They can help you diagnose the issue and provide a solution that's specific to your situation.
---
Conclusion – Friends, how did you like this "Error Retrieving Character List WOW" article? Do tell us by commenting below. Also, do share the post with your friends.
Join Telegram, If You Like This Article Follow Us on Instagram, Twitter, Facebook and Subscribe Our YouTube Channel. We Will Keep Bringing You Such Updates.