Are you experiencing Error Code M7701-1003 on Netflix on browsers like Brave, Chrome etc? Netflix error M7701-1003 is typically related to browser issues on your computer or device. This error usually occurs when there is an issue with the browser's ability to stream Netflix videos.
Recently we covered 'Netflix Not Working on Chrome Browser', 'HTTP Error 502 Netflix' & 'Netflix Error Code 40103' topic on our site.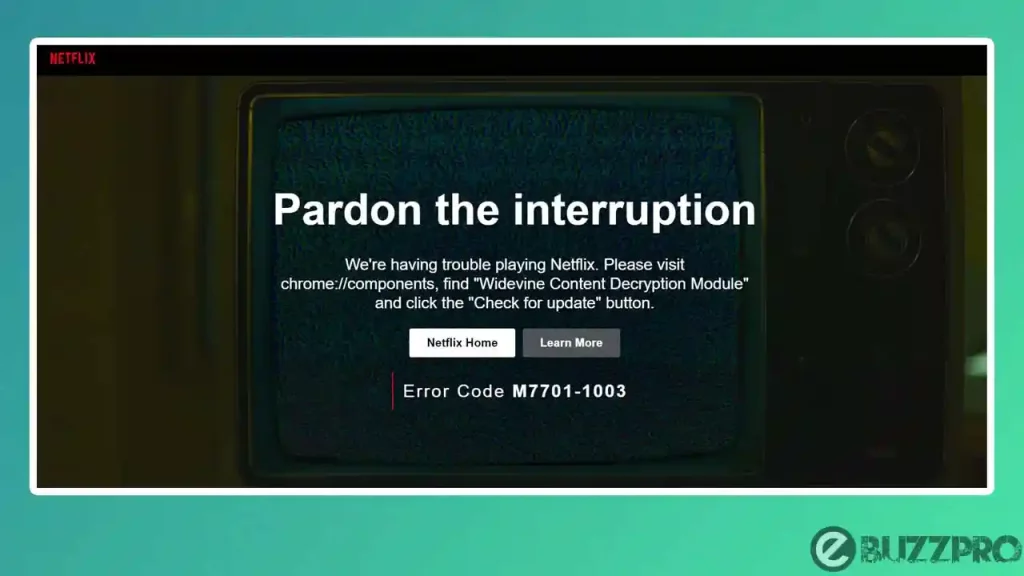 What Could be Reasons for 'Netflix Error M7701-1003'?
There are several reasons why you may encounter Netflix error M7701-1003. Here are some of the common causes.
Browser Compatibility – This error may occur if you are using an outdated browser or a browser that is not compatible with the Netflix website.
Corrupted Browser Data – The error may also occur if the cache and cookies in your browser are corrupted or outdated, causing playback issues.
Network Connectivity issues – A slow or unstable internet connection may prevent Netflix from streaming content properly and lead to the M7701-1003 error.
Browser Extensions – Browser extensions such as ad-blockers, privacy plugins, or antivirus software may interfere with Netflix's ability to stream content and cause the error.
System Updates – Sometimes, updating your operating system or browser can also cause compatibility issues that lead to the M7701-1003 error.
Netflix Account issues – It's also possible that there may be an issue with your Netflix account that's causing the error.
How to Fix "Netflix Error M7701-1003" Problem?
If you are experiencing issues with the Netflix error code M7701-1003, here are some possible ways to fix this Netflix error M7701-1003 problem.
1. Check your internet connection
Ensure that your internet connection is stable and fast enough to stream content on Netflix. You can check your internet speed and connectivity by running a speed test on a website like speedtest.net.
2. Clear Your Browser Cache and Cookies
If still you're experiencing Netflix Error M7701-1003 issue, Clearing your browser's cache and cookies can help resolve issues related to outdated or corrupted data. Follow these steps to clear your cache and cookies:
Google Chrome: Click the three dots in the upper right corner, go to More Tools, and click Clear browsing data. Select the time range you want to clear, and then click Clear data.
Mozilla Firefox: Click the three lines in the upper right corner, go to Options, and click Privacy & Security. Under Cookies and Site Data, click Clear Data. Select the time range you want to clear, and then click Clear.
Safari: Go to Safari, click Preferences, and then click Privacy. Click Manage Website Data, and then click Remove All.
Microsoft Edge: Click the three dots in the upper right corner, go to Settings, and click Privacy, search, and services. Under Clear browsing data, click Choose what to clear. Select the items you want to clear, and then click Clear now.
3. Disable Browser Extensions
Disabling browser extensions, particularly ad-blockers or privacy plugins, may help resolve the Netflix Error M7701-1003 issue. You can do this by going to your browser's extensions or plugins settings.
4. Update Your Browser
Ensure that your browser is updated to the latest version. Updating your browser can help resolve compatibility issues that may cause the error.
5. Try a Different Browser
If the error persists, try using a different browser to access Netflix. This can help determine if the issue is specific to your current browser.
6. Restart Your Device
Sometimes, simply restarting your device can help resolve issues related to temporary glitches or conflicts. Restart your computer, smartphone, or tablet, and then try accessing Netflix again.
7. Contact Netflix Support
If none of the above steps work for Netflix Error M7701-1003 problem, you can contact Netflix support for further assistance. They may be able to provide more specific guidance or troubleshoot the issue further.
---
Conclusion – Friends, you have got this "Netflix Error M7701-1003" How was the article? Do tell us by commenting below. And if you like this post, please share it as much as possible.
Join Telegram, If You Like This Article Follow Us on Instagram, Twitter, Facebook and Subscribe Our YouTube Channel. We Will Keep Bringing You Such Updates.