Reels are a popular video format on Facebook, similar to the content on other social networking sites such as Instagram and TikTok. These short video clips contain entertaining and educational content that is shared by creators.
Facebook reels can contain audio, visual effects, images, and other media formats. But sadly, watching reels requires an active internet connection on the app. The app doesn't provide any download option, which hinders the experience for many of us.
However, if you are looking for Facebook reels download, then we have the perfect tool for you. Snaptube is an app that lets you download Facebook videos free of cost. The app is easy to use and completely secure. Excited to learn about this Facebook reels download app? Read below to know more!
Snaptube: The Perfect Solution To Download Facebook Reels Video
Though there are many apps that claim to be Facebook reels download apps, Snaptube is the most genuine and secure app to save Facebook reels. The app has a great user interface, is trusted by leading security companies, and requires no registration. It has a myriad of features such as:
High-quality downloads: Facebook

reels

have videos of all quality. When you download these videos through Snaptube, it preserves the original quality so you can enjoy the same videos offline. Snaptube app supports bitrates from 144p and 360p to even 2k and 4k HD. When you are downloading videos, the app also gives you options to select the required bitrate.
No download limits: Unlike other apps, Snaptube has no limit on the number of Facebook reels you download. You don't need to create an account or enter any details. Simply use the search bar or URL to download as many reels as you like, completely free.
Secure: The app has undergone rigorous tests to keep viruses and malware at bay. It has also been determined as safe by leading Android security companies such as Norton and McAfee. This means you can enjoy your free downloads without worrying about any malfunction, as the app provides complete security to your device.
Supports multiple platforms: If you wish to download the Instagram reels that are displayed on Facebook, then you can easily do that through Snaptube. The app supports not only Facebook but also all other major social networking platforms, including Instagram and Youtube. You can browse and download endlessly and choose between audio and video formats for the downloads.
Android Toolkit: Can't download Facebook reels due to limited phone storage? Snaptube has an inbuilt Android toolkit that helps you optimize your phone's performance. It can free up storage space, boost phone speed, and increase battery life. With a single app, you can download as well as enjoy the reels without worrying about any interruption.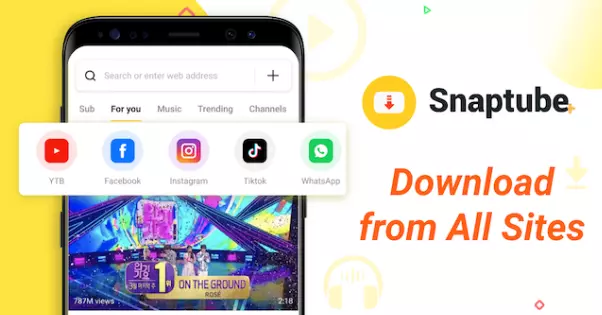 These are some of the many features which make the Snaptube app our favorite when it comes to Facebook reels video download. Now that you know why Snaptube is the best, it is time to learn how to download reels from Facebook using the app.
How To Download Facebook Reels Using Snaptube?
Using Snaptube is very easy. By following the below steps, you can download Facebook reels within no time. But first, you need to download the Snaptube app.
Visit Snaptube's official website and click on the Download button.
Once you download Snaptube's apk, install it on your phone.
If the phone doesn't allow the installation, go to "Settings" and click on "Allow third-party app installations."
After the app installs, grant the necessary permissions so that Snaptube can operate smoothly on your phone.
Now that you have installed the Snaptube app, you can proceed to save Facebook reels by following the below steps.
Open the Facebook app and find the reel you want to download.
Click on three dots above the reel and select "Copy link" from the menu that appears.
Open the Snaptube app on your phone and paste the link in the search bar.
The app searches the desired reel, and you can open it within the Saptube app by clicking on it.
Click on the download button at the bottom of the screen and select the format as "MP4."
The app downloads the video, and you can access it through your phone's gallery or Snaptube's library.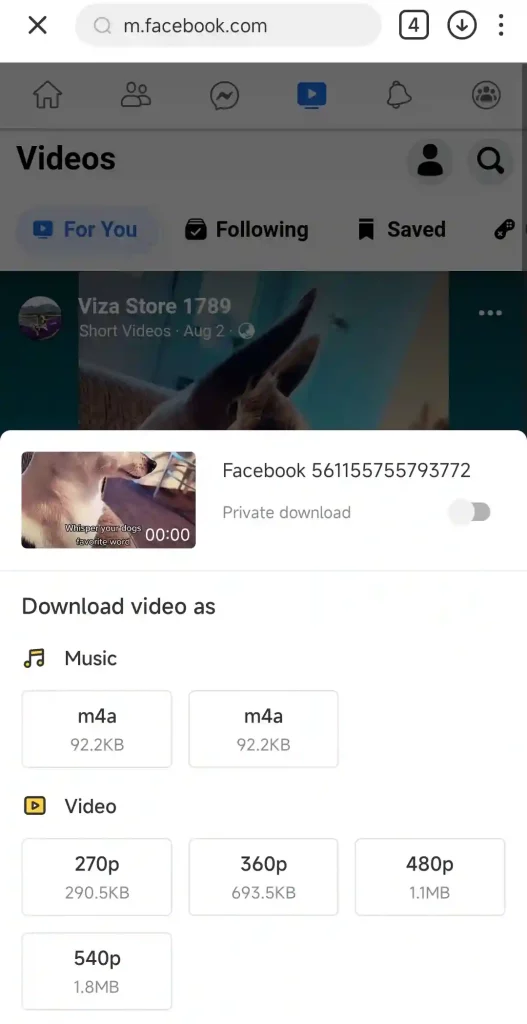 Apart from reels, you can also download posts, stories, and other audio using the Snaptube app. These downloads are unlimited and free of cost.
Whether it is high-quality videos or unlimited downloads, Snaptube is the best app to save Facebook reels. If you wish to download your most liked reels from Facebook, then install the Snaptube app now!
Frequently Asked Questions (FAQs)
Q: Does Snaptube allow HD downloads for Facebook reels?
A: Snaptube supports all video formats and qualities. You can download videos from 144p to even 2k HD. As most reel videos are of higher video quality, we recommend using the Snaptube app for such downloads. Snaptube preserves the video quality, so the experience remains the same even if the video is offline.
Q: How can I find the video URL in the Facebook app?
A: Once you find the required reel or video on Facebook, look for three dots over it. Clicking on the dots will open a menu that includes an option called "Copy link." Tap on the option and paste the copied link in Snaptube's search bar to proceed with the download.
Q: Does Snaptube require any registration for facebook reels download?
A: No, the Snaptube app never asks for any login or registration details to use it as a Facebook reels downloader. The app is easy to use, and you can start downloading videos right away after installing Snaptube on your Android phone.
Join Instagram, If You Like This Article Follow Us on Twitter, Facebook, Join Telegram and Subscribe Our YouTube Channel. We Will Keep Bringing You Such Updates.