Create GTA Reels on Instagram Android – Hello Friends! Welcome to the eBuzzpro.com blog. And in today's article we will know "How to Make GTA San Andreas Reel on Instagram?". By the way, if you create Instagram Reels or are fond of watching Reels.
So you would know that GTA San Andreas Reel is becoming quite viral in Instagram these days. So friends today in this post we will tell you how to make GTA San Andreas Reel in instagram in 1 minute? So many of our friends are looking for "gta san andreas reel filter instagram" on the internet.
Also Read | How to Set PUBG Emote Video Live Wallpaper in Android
But they are not getting it. So you do not need to search instagram filters of gta san andreas reel. Because today I will tell you about one such android app. With the help of which you can easily create GTA San Andreas Reel on Instagram for free.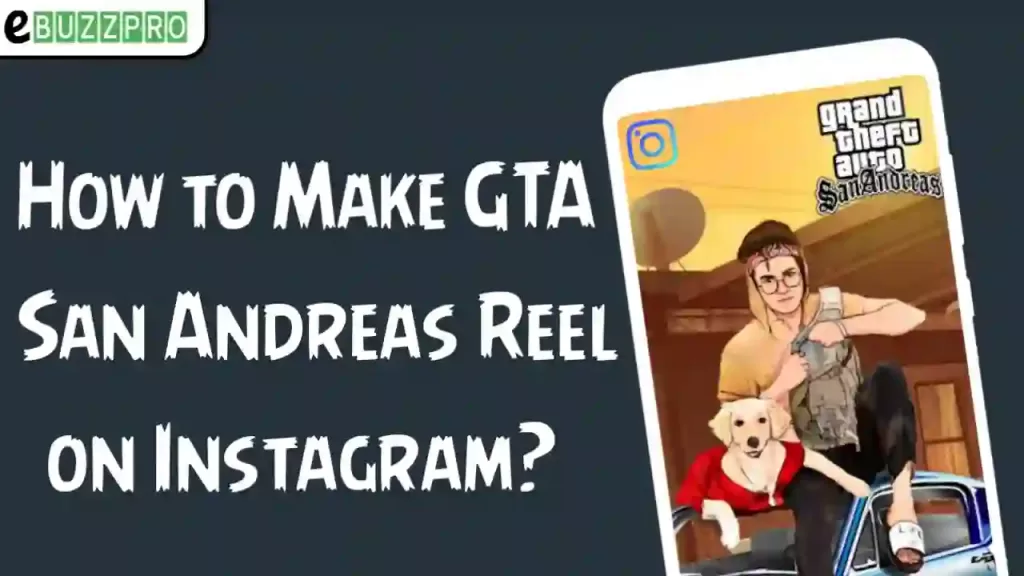 What is GTA San Andreas Reel Filter/Effect for Instagram?
Friends, nowadays a video and reels are going viral very fast on Instagram. In which we get to see GTA San Andreas Filter. And ever since this filter started going viral on Instagram. Since then, from big to big reels creators to small creators have also started using this instagram filter.
And as soon as this filter was launched, this Instagram Reels Filter became Viral. After which it started trending GTA San Andreas Reel wherever you look. So now it comes to how we can create this GTA San Andreas Reel with this Instagram Filter.
Also Read | Best Hashtags for Instagram Reels for More Views and Likes
How to Make GTA San Andreas Reel on Instagram?
So now it's turn how we can make GTA San Andreas Reel on Instagram in our Instagram.? I am going to tell you the easiest way. So that you can easily make this reel absolutely free.
Step 1. Friends, first of all you have to install an Android App in your phone. And the name of that application is "mAst: Music Status Video Maker". You have to install this app from playstore. Below you will find the link of this app.
Step 2. After installing this app on your phone, you have to open this mAst App. After opening the app, you get to see many filters. In which you also get to see a GTA filter.
Step 3. But you also get a search box on the top side of this app. In which you have to search "GTA". Now you will get to see many such filters that will be GTA Reels Filters.
Step 4. Now choose whichever of these filters you like. Have to click on it. Now the gallery of your phone will open. Where you have to choose a good photo of you. And click on OK.
Step 5. Now it will do the work of processing in front of you. And as soon as 100% is done, your GTA San Andreas Reel is ready. Now you can upload this reel to instagram, facebook, and youtube.
---
Also Read | 500+ Aesthetic Symbols Copy and Paste, Aesthetic Signs for Instagram
---
Conclusion – Guys you will like this "How to Make GTA San Andreas Reel on Instagram?" How was the article? Do tell us by commenting below. And if you like the post, do share as much as possible.
Join Telegram, If You Like This Article Follow Us on Instagram, Twitter, and Facebook. We Will Keep Bringing You Such Articles.