Some time back Google has launched its brand new 'Pixel 7 Series' smartphone. And now some Pixel 7 and Pixel 7 Pro users are facing Pixel 7 pro issues like Pixel 7 Camera App Not Working and Pixel 7 Pro Camera Crashing Issue. Google Pixel 7 users are now raising this Pixel 7 Pro freezing and crashing problem on Reddit.
Pixel 7 Pro Camera Crashing Bug?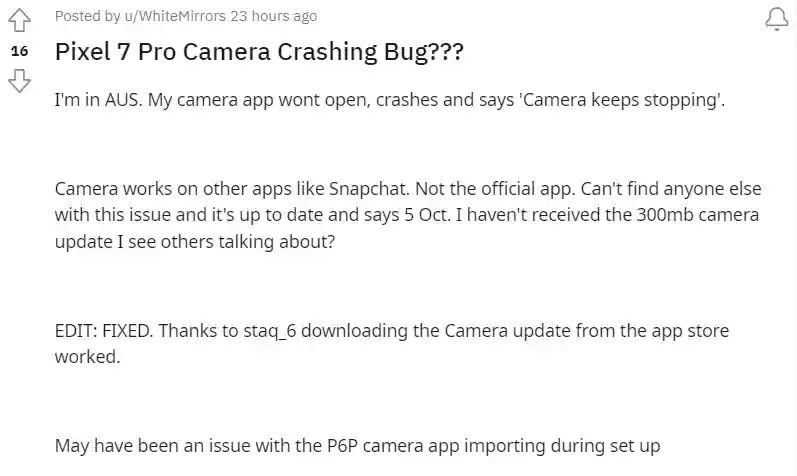 A Reddit user named u/WhiteMirrors asked a question on Reddit on October 12th about Pixel 7 Pro Camera Crashing Bug? According to him Camera works on other apps like Snapchat. But when they are launching Pixel 7 Pro default camera app, they are facing the camera app wont open, crashes and says "Camera keeps stopping".
✅ Issue Fixed : downloading the Camera update from the app store worked.
Camera app won't open on my Pixel 7 Pro

"Just received my Pixel 7 Pro and the camera app systematically crashes (before I can see anything), even after reboot. I am able to open the camera through Messenger tho."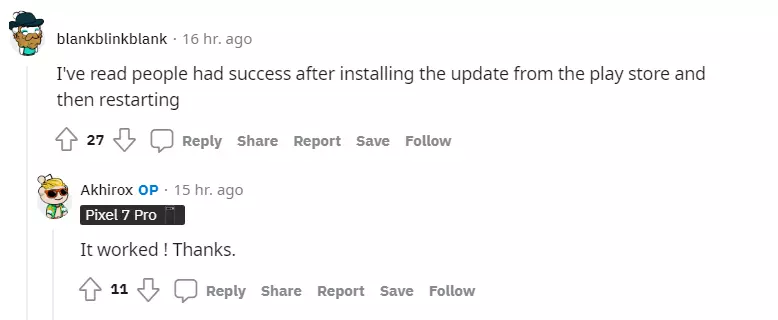 ✅ Issue Fixed : Searching for "Camera" in the Play Store and updating it worked.
How to Fix Camera app Crashing on your Pixel 7 Pro?
Important: Pixel 6 Pro and Pixel 7 Pro have a larger camera that uses additional components to focus quickly. If you shake the phone, the camera may make a slight rattling noise. This is normal and expected behavior. ➚
Below I have told you some steps to pixel 7 camera app not working.
---
Step 1: Restart your phone
To fix Google Pixel 7 Pro camera app won't open issue, you have to restart you Pixel 7 Phone.
Step 2: Clear the Camera app's cache
Open your phone's Settings app ⚙️.
Tap Apps > See all apps > Camera. If you can't find "See all apps," tap App info.
Tap Storage & cache > Clear Cache.
Step 3: Update Camera app from Google Play store
Open the Google Play Store app .
At the top right, tap the profile icon.
Tap Manage apps & devices.
Under "Updates available," choose to update all apps or a specific app.
---
Conclusion – Friends, you have to read this "Pixel 7 Camera App Not Working or Pixel 7 Pro Camera Crashing" How was the article? Do tell us by commenting below. And share this post as much as possible.
Join Telegram, If You Like This Article Follow Us on Instagram, Twitter, Facebook and Subscribe Our YouTube Channel. We Will Keep Bringing You Such Updates.