Some users are experiencing error code LS-0016 when trying to launch Fortnite. Fortnite error code LS-0016 means that the game is currently unavailable. This error can occur for a variety of reasons.
The Fortnite Error Code LS-0016 appears when the servers are down for update maintenance. if The error message "Launch Failed Fortnite is currently unavailable. Please try again later. Error Code – LS-0016" appear on your screen, then this article could help you to get rid from this problem.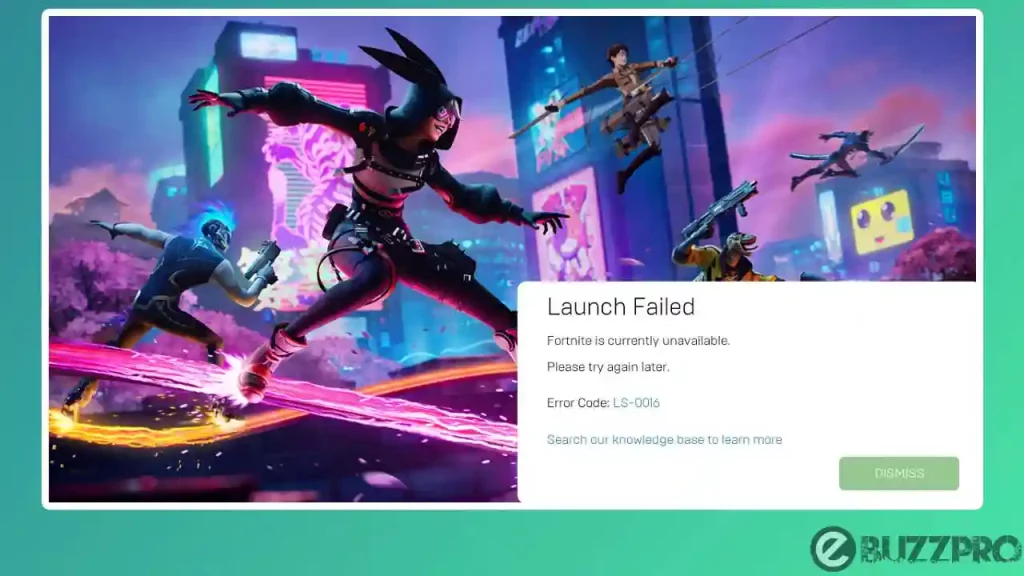 What Could be Reasons for Fortnite Error Code LS-0016?
There are a few reasons why you might be getting the Fortnite Error Code LS-0016. Some of the most common reasons include.
Game is in the Process of Being Updated – This is the most common reason for this error. If you're getting this error, try restarting the Epic Games Launcher and see if the game updates.
Game is Unavailable Due to Scheduled Maintenance – Epic Games sometimes takes Fortnite's servers offline for scheduled maintenance. If you're getting this error and it's not during a scheduled maintenance period, you can check the Epic Games status page to see if there are any known issues.
Internet Connection Issue – If you're getting this error and you're sure that the game is not in the process of being updated or unavailable due to scheduled maintenance, then it's possible that your internet connection is not working properly.
Epic Games Launcher Problem – In rare cases, the Epic Games Launcher itself can cause this error. If you've tried all of the other suggestions and you're still getting this error, you can try uninstalling and reinstalling the Epic Games Launcher.
How to Fix "Fortnite Error Code LS-0016" Problem?
If you are experiencing issues with the Fortnite Error Code LS-0016, here are some possible ways to fix this Fortnite Error Code LS-0016 problem.
1. Check Your Internet Connection
Ensure that you have a stable and reliable internet connection. You can try restarting your router or modem to refresh the connection.
2. Verify Server Status
Visit the official Fortnite Status page (https://status.epicgames.com/) or check Fortnite's social media channels to see if there are any known server issues or maintenance periods. If the servers are down, you may need to wait until they come back online.
3. Clear Cache and Temporary Files
If still you're experiencing Fortnite Error Code LS-0016 issue, Clearing the cache and temporary files associated with Fortnite can sometimes resolve authentication issues. The method to do this can vary depending on the platform you're using. You can typically find instructions on how to clear cache for your specific platform online.
4. Restart the Game and Platform
Start by closing Fortnite completely and restarting both the game and the platform you're playing on (PC, console, or mobile). Sometimes, this simple step can resolve temporary authentication issues.
5. Disable VPN or Proxy
If you're using a VPN (Virtual Private Network) or proxy service, try disabling it temporarily. VPNs or proxies can sometimes interfere with the authentication process and cause errors.
6. Reinstall Fortnite
As a last resort, you can try uninstalling and reinstalling Fortnite. This process can help fix any corrupted game files that may be causing the authentication error.
---
Conclusion – Friends, you have got this "Fortnite Error Code LS-0016" How was the article? Do tell us by commenting below. And if you like this post, please share it as much as possible.
Join Instagram, If You Like This Article Follow Us on Twitter, Facebook, Join Telegram and Subscribe Our YouTube Channel. We Will Keep Bringing You Such Updates.