Are you facing "Sling TV Error Code 10-3" during video stream? Sling TV Error Code 10-3 is an error message that indicates that there is an issue with the network connectivity or the internet connection between your device and the Sling TV server.
It typically occurs when Sling TV is unable to stream video content due to a poor or unstable internet connection. This Sling TV Error Code 10-3 message can appear on a variety of devices, including computers, smartphones, tablets, and Smart TVs, and it can occur for a number of reasons.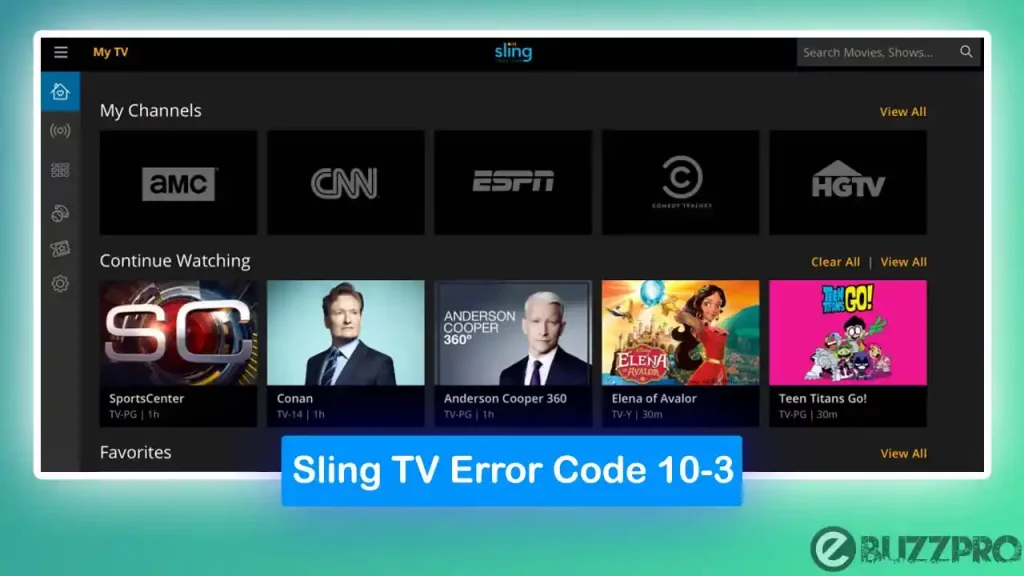 What Could be Reasons for Sling TV Error Code 10-3?
There could be several reasons for Sling TV Error Code 10-3. Some of the common reasons include.
Poor or Unstable Internet Connection – A weak or unstable internet connection can cause streaming issues and prevent Sling TV from working properly. This can be caused by a variety of factors, such as network congestion, interference from other wireless devices, or a low bandwidth connection.
Network issues – Issues with the network infrastructure, such as server downtime or maintenance, can also cause Sling TV Error Code 10-3.
Outdated App or Device Software – If your Sling TV app or device software is outdated, it may not be compatible with the latest updates or features required by Sling TV.
Compatibility issues – In some cases, Sling TV may not be compatible with your device or browser, leading to Error Code 10-3.
Account or Billing issues – If there is a problem with your Sling TV account or billing, it may prevent you from accessing Sling TV content and result in Error Code 10-3.
How to Fix "Sling TV Error Code 10-3" Problem?
If you are encountering the Sling unexpected error 10-3, there are several steps you can take to try and resolve the Sling TV Error Code 10-3 issue. Here are some troubleshooting tips you can try.
1. Check Your Internet Connection
Make sure your internet connection is stable and strong enough to stream video content. Try resetting your router or modem to refresh your network connection. You may also want to try connecting your device directly to your modem using an Ethernet cable, as this can provide a more stable connection.
2. Restart Your Device
Try restarting your device and launching the Sling TV app again. This can sometimes resolve temporary issues with the app or device software.
3. Clear the Cache and Data of the Sling TV App
If still you're experiencing Sling TV Error Code 10-3 issue, Clearing the cache and data of the Sling TV app can help fix the error code. Go to the app settings on your device, locate the Sling TV app, and select "Clear cache" and "Clear data".
4. Update the Sling TV App
Make sure you have the latest version of the Sling TV app installed on your device. You can check for updates in the app store or settings on your device.
5. Disable VPN or Proxy
If you are using a VPN or proxy server, disable it and try streaming Sling TV again. These services can sometimes interfere with the streaming service.
6. Contact Sling TV Support
If none of the above steps resolve the issue, contact Sling TV support for further assistance. They may be able to provide additional troubleshooting steps or help you identify any account or billing issues that may be causing the error.
---
Conclusion – Friends, how did you like this "Sling TV Error Code 9-400" article? Do tell us by commenting below. Also, do share the post with your friends.
Join Telegram, If You Like This Article Follow Us on Instagram, Twitter, Facebook and Subscribe Our YouTube Channel. We Will Keep Bringing You Such Updates.