Many companies desire to improve their internet exposure and rankings on search engines. In this cutthroat environment, businesses seek strategies to enhance their SEO (search engine optimization) to rank highly on Google for particular requests. Businesses can execute SEO tasks quickly and affordably with SEO proxies. It allows businesses to improve online visibility and rank better on search engines.
Proxies for SEO are required to run successful SEO campaigns. By reading on, learn more
about the benefits of SEO proxies in improving website ranking.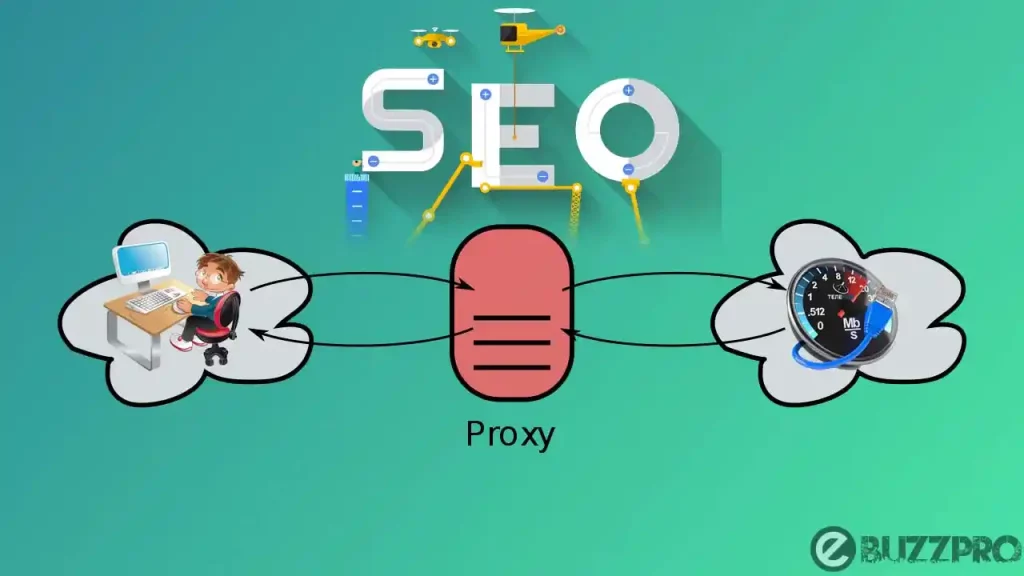 Understanding Proxies And Their Functionality
Proxies mask your IP address from the websites you visit by offering a proxy IP address. Sinceyou can remain anonymous when searching, this is quite helpful for research. As a result, youcan view your website's ranking without having your browsing history stored anywhere.
Your company would probably benefit from higher search ranks if a search engine could identify your device's IP address. With the use of a proxy IP address, you may create a sort of control group and do accurate research regarding the rankings of your website without spending too much time trying to maintain your anonymity.
The functions of SEO proxy include:
● Enhancing Keyword Research With Proxies
You'll see results quickly after you use proxies in your keyword research activities. Your ability to perform extensive keyword analysis quickly will increase, and the outcomes will get more precise. Search engine optimization is accelerated by using numerous proxies while maintaining your privacy.
It can help you identify the low-competition keywords that are worth targeting so that your content can use them before anybody else. You can also learn about your competition's keyword strategy by adjusting the proxy and keyword research tool settings. In this manner, you can take the market by using one of your strategies to defeat theirs.
● Utilizing Proxies For Competitor Analysis
SEO proxies make it possible for people or companies to gather a wide range of data from their rival's websites. It enables users to assess the titles, meta keywords, graphic content, and meta description usage of their content compared to competitors.
● Track Your Ranking
It's crucial to keep track of your rankings regarding SEO. Making choices regarding enhancingyour SEO approach can be made easier if you are aware of how your website ranks in relationto your competition and for which keywords. However, it can be challenging to track your ranksaccurately if you are not using proxies.
● Bypassing Rate Limits And Captchas With Proxies
Data scraping is an important part of SEO. To stop automated programs from viewing and interacting with websites, CAPTCHAs create a barrier for data scrapers. Bots and scripts are prevented from accessing website content and data scraping by a web page with a CAPTCHA test.
The website you are scraping will notice unusual behavior when you make repeated queries toa target server without changing your IP address. You will then be prompted to complete CAPTCHA tests to verify that you are not a robot. Users can conceal their IP addresses via proxies, which also stop websites from learning their true identities.
● Ensuring Web Crawler Efficiency With Proxies
Proxy servers will help to ensure that your crawler does not encounter any problems because they are automatically configured for web crawling. Residential IPs periodically change your IP address and maintain a running list of IPs. This can defeat nearly any ban detection strategy web administrators may use to identify bots.
Best Practices For Using Proxies In SEO
For SEO specialists, proxies can be an effective tool for data collection, website ranking monitoring, and competitor analysis. However, it's crucial to adhere to best practices to get the most out of proxies and prevent any potential risks. Here are a few tips:
It's crucial to select a reputable proxy provider who provides high-quality proxies.
Use proxies only when necessary. Use them instead for focused activities like monitoring website rankings or scraping search engine results.
Ensure your proxies are operational and not blocked or blocked by keeping an eye on them.
Conclusion
Professionals in SEO who are interested in improving website rankings in 2023 may find proxiesto be a useful tool. Proxy servers allow you to monitor website rankings, get insightful data, andperform competitive analysis. Finally, proxies can help SEO experts increase website ranks in2023 and beyond and acquire a competitive edge in a continually changing digital world.
Join Instagram, If You Like This Article Follow Us on Twitter, Facebook, Join Telegram and Subscribe Our YouTube Channel. We Will Keep Bringing You Such Updates.