How to Cool Down My Smartphone – Hello Friends! Welcome to the eBuzzpro.com blog. And in today's article we will know "How to Cool Down Android Phone Temperature?". By the way, nowadays there are many ways on the internet regarding mobile hit problem solution.
But do you know that some such Amazing Cool Android Apps are also available on the Internet. Which proves to be very helpful in cooling down the CPU of your Smartphone / Android mobile. Maybe you do not know about these apps. Let me tell you that this app is one of the High-Demand Apps on Playstore.
Also Read | How to Set PUBG Emote Video Live Wallpaper in Android?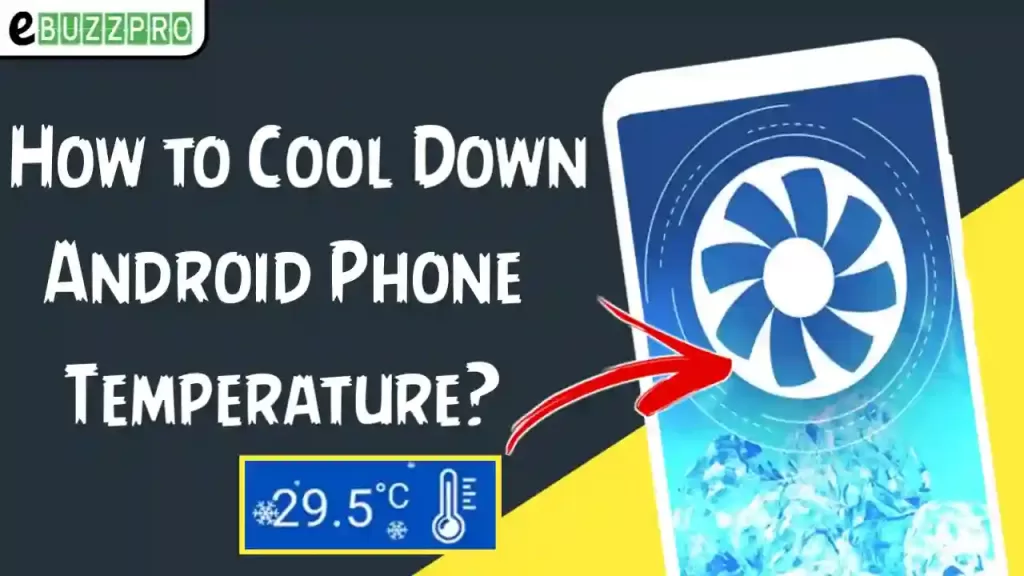 Mobile Phone Heating Problem: Smartphone Heating Issue
Friends, if you are an Android phone user. So you must have faced the heating problem in your mobile phone at some point or the other. But do you know why our mobile phone gets hot after all? So let me tell you. The most important thing to operate our mobile is RAM, Processor and CPU.
So when a function or app runs in your phone, then your phone's RAM and processor consumes more and more. And CPU in helps everyone to run. And when these three are not more powerful in your mobile than the running app or function.
So in this case your phone starts taking more load. After which your smartphone starts heating up. Whose people also adopt different methods. The same few people search "can i put my phone in the fridge to cool it down" on Google. So that they can get some working solution.
So I have told you about one such Android app below. With the help of which you can easily cool down your Warm smartphone. Well, you have to follow the steps given below. Also you have to read the post completely.
Also Read | 10 Best Super Fast Charger App for Android
Steps : How to Cool Down Android Phone Temperature?
Friends, if you also have a question "how to stop my phone from overheating", then you will easily get the answer in some of the steps given below. Because apart from this some of our brothers also asked questions like "how can i cool my mobile phone". So I have answered all these at once in this post itself.
Step 1. First of all, you have to install an application from Play Store on your phone. The name of this application is "Booster for Android". You will find its link below. Download and install it on your phone.
Step 2. After installing this app on the phone, the app has to be opened. After opening you will see the Start button. You have to click on this button. Now it will ask you for permission for "Active Threat Monitoring". You have to do yes.
Step 3. After doing all the process you will see the interface of the app. Where you will see many different types of features and its options. And also you will see information about "Running Process" and "RAM Usage".
Step 4. Now you will see a menu below. In which many different features are present. You have to click on the third number option "CPU Cooler" from this. Now the option of "Cool Down" will appear in front of you. You have to click here.
Step 5. Now your phone will be scanned. After this you will see a message named "Cooled". And it will be completely green in color. And also you will see the message of "CPU Temperature is Good". That means your mobile will cool down in a while.
Also Read | How to Read Deleted Messages on Whatsapp by Sender?
Can I Put My Phone in the Fridge to Cool it Down?
A lot of people often ask that Can we cool phone in fridge? So let me tell you that this has become a common question in today's time. Because everyone's phone is almost hot. And in such a situation, the only way that comes in the mind of people is to keep the hot mobile in the fridge. But wait, you never have to keep a hot mobile phone in the fridge. Let's know the reason for this!
Reason – Friends, now let me tell you why overheated mobile phones should not be kept in the refrigerator or freezer? So let me tell you whether it is an Android phone or an iPhone. Both have been designed so that they can be used in temperatures as low as 32 degrees Fahrenheit. And in such a situation, if you put a hot phone in the fridge, then due to temperature and exposure, your phone can get damaged due to moisture.
---
Conclusion – Friends, you have got this "How to Cool Down Android Phone Temperature?" How was the article? Do tell us by commenting below. And if you like this post, please share it as much as possible.
Join Instagram, If You Like This Article Follow Us on Twitter, Facebook, Join Telegram and Subscribe Our YouTube Channel. We Will Keep Bringing You Such Updates.