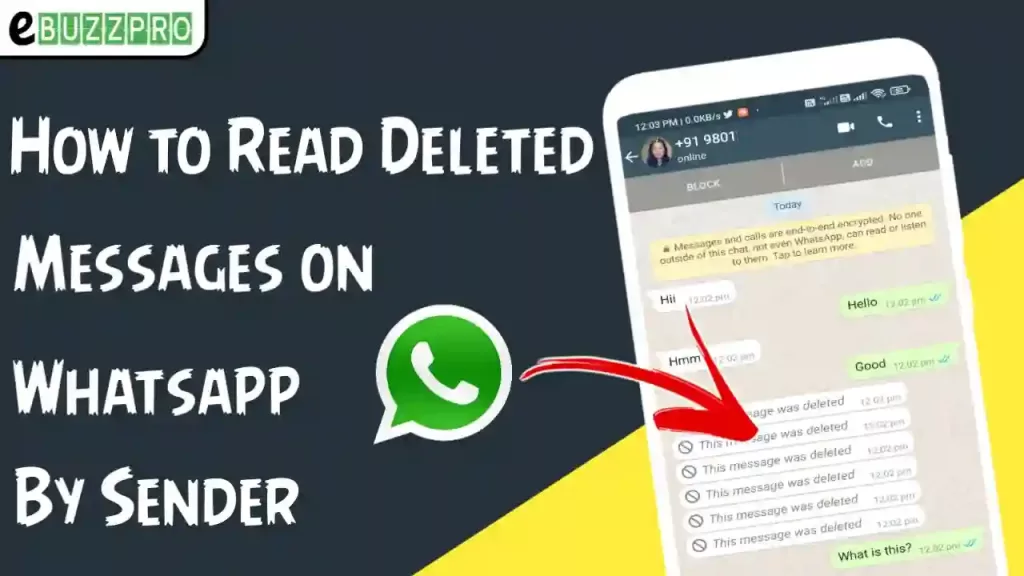 Way to Read Deleted Messages on Whatsapp – Hello Friends! Welcome to the eBuzzPro.com blog. And in today's article we will know "How to Read Deleted Messages on Whatsapp by Sender?". Nowadays people are getting a lot of problem of this deleted WhatsApp message.
Friends, as you know that after you Whatsapp Latest Update, the "Delete for Everyone" feature has come in WhatsApp. After which now people after sending any text message, video and audio, people delete that message for both the people.
Also Read | How to Set PUBG Emote Video Live Wallpaper in Android?
And in such a situation, the Whatsapp Message Receiver does not even know this. After all what Sender had sent from the other side. It is not known. So for this people are now searching "how to read deleted text messages on whatsapp" on Google.
So that they can get some such tricks. Through which they can easily see deleted whatsapp messages. So now you do not need to go anywhere for this. I have told you some such steps. Through which you will be able to easily see the deleted messages of all those whatsapp.
WhatsApp – Friends WhatsApp, which in today's time is well known from the elderly to the children of the world. This WhatsApp is installed in almost all smartphones and iPhones taking the world with 5,000,000,000+ downloads. And this Whatsapp is completely free to use.
Notisave: Recover Deleted Whatsapp Messages
As I have told you above that Whatsapp brought an update only a few years back. In which the delete for all feature was launched. And it was launched in view of the privacy of the users. But in such a situation, an app Notisave was also launched to recover the deleted messages from this feature.
Also Read | How to Make GTA San Andreas Reel on Instagram?
With the help of this Notisave app, we can see the messages deleted by anyone on whatsapp. Which we also know by the name of recover deleted whatsapp messages app.
| | |
| --- | --- |
| App Name | Notisave |
| Size | 10MB |
| Downloads | 10,000,000+ |
| Requires | Android 5.0+ |
| Available on | Playstore |
How to Read Deleted Messages on Whatsapp Using Notisave?
Step 1. To recover deleted Whatsapp messages, you will first need a premium app. And this NotiSave App is available on Play Store. You download and install it on your Android mobile. You should do so much work, we will tell you the rest below.
Step 2. Once the Notisave App is installed in your mobile phone. So you have to open this app. As soon as you open it, this app will ask you for some permission. You don't need to think much. Because this app will only ask you for some permissions related to whatsapp.
Step 3. Right now this NotiSave app will ask you for permission for Autosave. It is very important to give you this permission. Because let me tell you that some other battery optimization of your phone can prevent this app from running in the background.
Step 4. After completing all the above steps, your app is fully deployed in your phone. Now this NotiSave App of yours will track all your Whatsapp Message Notifications. And you will keep getting notification of this.
Step 5. Now you can be sure. Because now if your Whatsapp will be any "Deleted Message". You can easily see that message with the help of this Notisave app.
---
Also Read | How to Increase Followers on Instagram Tips and Tricks?
---
Conclusion – Friends, you have got this "How to Read Deleted Messages on Whatsapp by Sender?" How was the article? Do tell us by commenting below. And if you like this post, please share it as much as possible. How to read a deleted WhatsApp message someone sent you
Join Telegram, If You Like This Article Follow Us on Instagram, Twitter, and Facebook. We Will Keep Bringing You Such Articles.