Way to See Birthdays on Snapchat – Hello Friends! Welcome to the eBuzzPro.com blog. And in today's article I will tell you that "how to check friends birthday on snapchat"? I also know that you are reading this post because you are also a SnapChat user. In today's time, Snapchat has impressed people a lot.
Snapchat is an American Multimedia Instant Messaging App. Through this app you can send Image, Video. Not only this, you can also do Live Chat with anyone through this Snapchat App. And in this you can also make someone a friend. and chat with them. But nowadays people have started using Snapchat to take selfie as well.
Also Read | How to Install Windows 11 on Android Phone?
In this you get many different filters. But now a question that people want to know is that how can we check someone's birthday on Snapchat. So below I will tell you "how to see your friends birthday on snap"? So for more information, you have to read the steps given below carefully.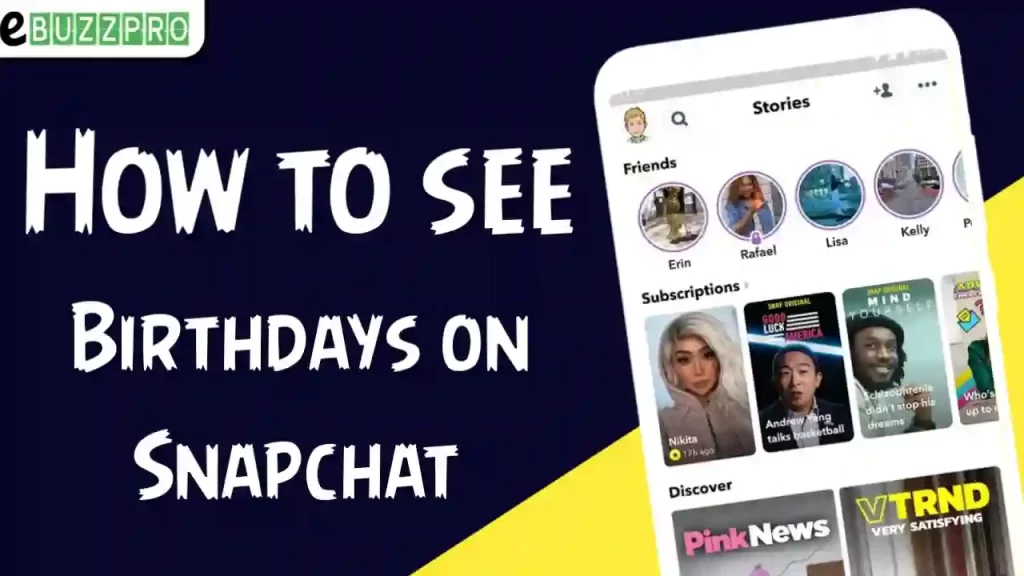 How to See Birthdays on Snapchat?
Friends, if you also want to know "how to find out someone's birthday on snapchat"? So for this you have to follow some easy steps. By the way, the Snapchat app is also very easy to use. You can log in to it through your mobile number.
Step 1: First of all open Snapchat App on your phone.
Step 2: As soon as Snapchat is opened, the Snapchat page's camera will open.
Step 3: Now you click on the Messaging option, and your chat page will appear.
Step 4: Now you are able to see your friend's Bitmojis.
Step 5: If there is Bitmoji of Party or Cake on your friend's profile, then understand that it is their birthday.
Also Read | How to Send Sound Emojis on Facebook Messenger?
How to see Upcoming Birthdays on Snapchat?
Step 1: First of all open Snapchat App on your phone.
Step 2: Now going to the chat page, clicking on Friend List, click on Minis and click on Birthday.
Step 3: Here you will see the list of all Upcoming Birthdays.
Step 4: From here you can send Birthday Snaps to anyone by clicking on "Send a Birthday snap".
Step 5: This snap will turn into a video with a funny message, which you can send to a friend.
---
Conclusion – Guys you will like this "How to See Birthdays on Snapchat" How was the article? Do tell us by commenting below. And if you like the post, do share as much as possible.
Join Telegram, If You Like This Article Follow Us on Instagram, Twitter, Facebook and Subscribe Our YouTube Channel. We Will Keep Bringing You Such Updates.