Way to Send Sound Emojis on Facebook Messenger: Hello Friends! Welcome to the eBuzzPro.com blog. And in today's article we will know "how to send emojis with sound on messenger"? This feature is completely new and people do not know about it.
So in such a situation it is our duty to tell you about this Sound Emoji Feature. So if there is a question in your mind that how can we send Emoji with Sound to anyone with the help of our Facebook Messenger. You know that Facebook keeps on rolling out new features on its platforms day by day.
Also Read | How to Remove Background from Image in Android?
In such a situation, now Sound emoji in Messenger android is going viral very fast. So friends if you also want to use this feature. And you do not know that "How to use sound emoji in Messenger" then read the post carefully.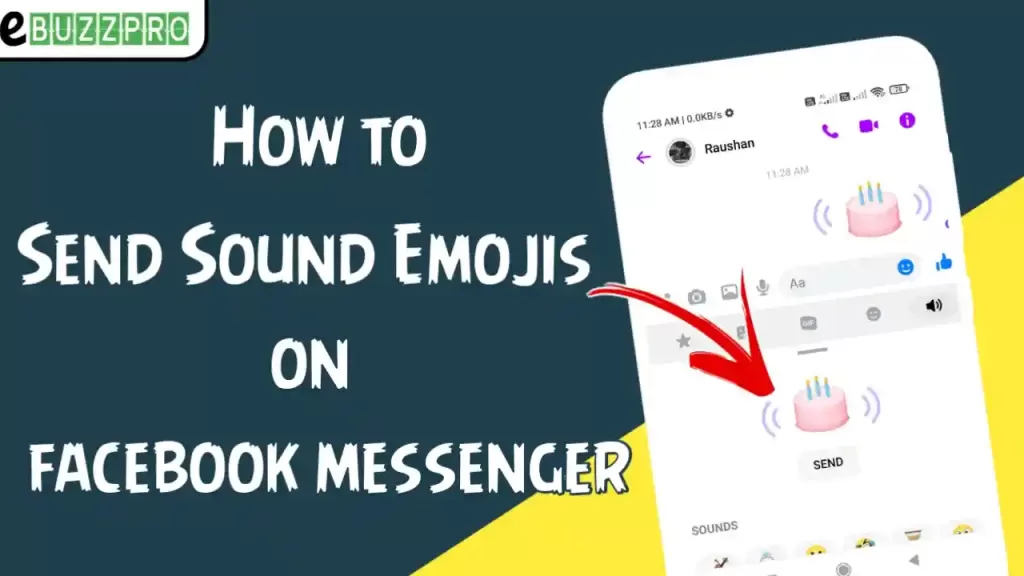 Sound Emojis in Facebook Messenger
Facebook has rolled out a new feature in its messenger app. And this feature has been named Sound Emoji. Because this emoji creates sound according to its style. Which is being liked very much by the people.
This Sound Emoji is simply Emoji with Sound. You can send Laugh Emoji to your friend on messenger with a laughing tune. So how do you activate this Sound Emoji in your Android mobile? For this you have to follow the steps given below.
Also Read | How to Fix "Sim Not Provisioned MM#2" Error?
How to Send Sound Emojis on Facebook Messenger?
Facebook has introduced about 24 Sound Emojis to its messenger app so far. But they say that they will soon add more sound emoji to their messenger. Let me tell you that these emojis are absolutely free.
Steps to send Soundmojis on Messenger
Step 1: First of all you have to update Facebook Messenger App from PlayStore.
Step 2: Now you have to open any random chat in Messenger.
Step 3: You have to click on the emoji icon.
Step 4: Now you will see Volume (🔊) at the very last, click on it.
Step 5: You will see many Sound Emojis here, click on the one you like.
Step 6: After selecting Sound Emoji, click on "Send" button.
So you taught here how you can easily send sound emoji with the help of your facebook messenger app. This is a very easy method. And with the help of this, you can woo your friend a lot.
Also Read | How to Cool Down Android Phone Temperature?
---
Conclusion – Friends, you have got this "How to Send Sound Emojis on Facebook Messenger" How was the article? Do tell us by commenting below. And if you like this post, please share it as much as possible.
Join Telegram, If You Like This Article Follow Us on Instagram, Twitter, Facebook and Subscribe Our YouTube Channel. We Will Keep Bringing You Such Updates.