Are you a victim of "Foxtel Error Code PE8000" problem? Don't worry! You're not alone. The Foxtel error code PE8000 means "Unknown player error". It is a playback error that can occur on Foxtel Now boxes, Foxtel IQ boxes, and Foxtel Play apps or Foxtel Go App. It usually means that there is a problem with the playback of content, such as a corrupted file or a network issue.
When This Error Code of Foxtel appear, Displays a "Playback error. Please navigate to the Home screen and try again. Error Code: PE8000″ message on the screen. if you're facing the same issue, then this article could help you to get rid from this problem.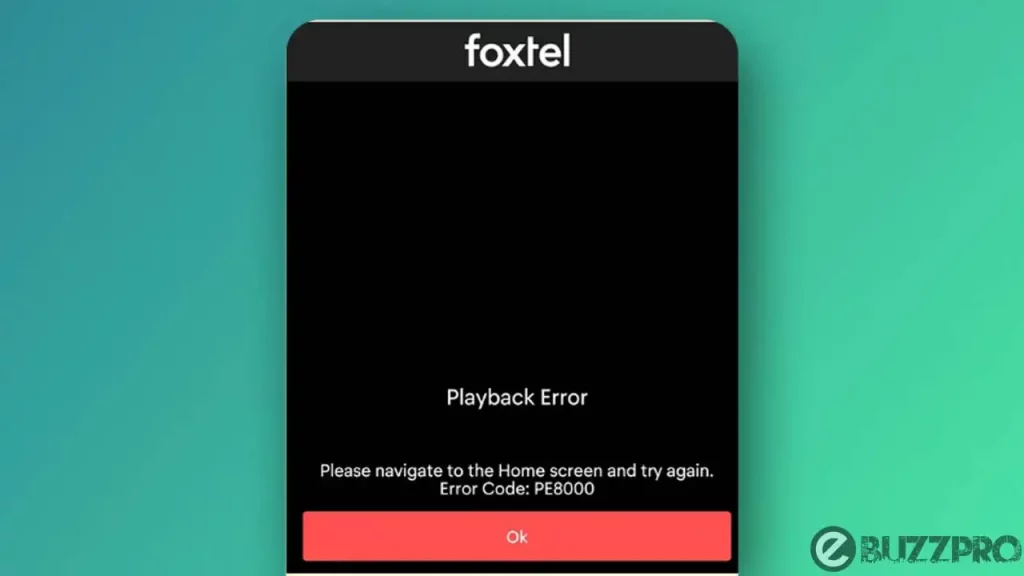 What Could Be Reasons for Foxtel Error Code PE8000?
There are a few reasons why you might be getting the Foxtel Error Code PE8000. Some of the most common reasons include.
Corrupted file or stream. This can happen if there is a problem with the data that is being streamed to your device. This could be due to a number of factors, such as a problem with the Foxtel servers.
Network issue. This could be a problem with your internet connection, or it could be a problem with the Foxtel servers. If your internet connection is slow or unstable, this can cause playback errors.
Problem with the Foxtel device or app. This is less common, but it is possible that there is a problem with the software on your device or with the Foxtel app itself. If you are using an older device or app, it may not be compatible with the latest Foxtel content.
How to Fix "Foxtel Error Code PE8000" Problem?
If you are experiencing issues with the Foxtel Error Code PE8000, here are some possible ways to fix this Foxtel Error Code PE8000 problem.
1. Check Your Internet Connection
Ensure that you have a stable and reliable internet connection. If you're using Wi-Fi, try moving closer to the router or resetting your Wi-Fi connection. If possible, you can also try using a wired Ethernet connection for a more stable connection.
2. Restart the Foxtel App
Close the Foxtel app completely and then reopen it. This action can help resolve temporary glitches or issues with the app.
3. Clear App Cache and Data (Android)
If still you're experiencing Foxtel Error Code PE8000 issue, Clearing the cache and data of the Foxtel app can help fix the error code. Go to the device's Settings, find the Apps or Application Manager section, locate the Foxtel app, and then select "Clear cache" and "Clear data".
4. Reinstall the Foxtel App
If the error persists, uninstall the Foxtel app from your device and reinstall it. This process can resolve any corrupted or misconfigured app files.
5. Try Watching a Different Channel
If the PE8000 error code only occurs on one channel or program, then the problem is likely with that specific content.
6. Contact Foxtel Support
If none of the above steps resolve the Foxtel Error Code PE8000, it's recommended to reach out to Foxtel customer support. They can provide specific troubleshooting guidance and further assistance in resolving the Foxtel Go App Error Code PE8000.
---
Conclusion – Friends, you have got this "Foxtel Error Code PE8000" How was the article? Do tell us by commenting below. And if you like this post, please share it as much as possible.
Join Instagram, If You Like This Article Follow Us on Twitter, Facebook, Join Telegram and Subscribe Our YouTube Channel. We Will Keep Bringing You Such Updates.