Way to Fix Sim Not Provisioned MM#2 – Hello Friends! Welcome to the eBuzzPro.com blog. And in today's article we will know about "sim not provisioned mm#2 how to fix". Well this error is very common. And many people are often worried about this problem.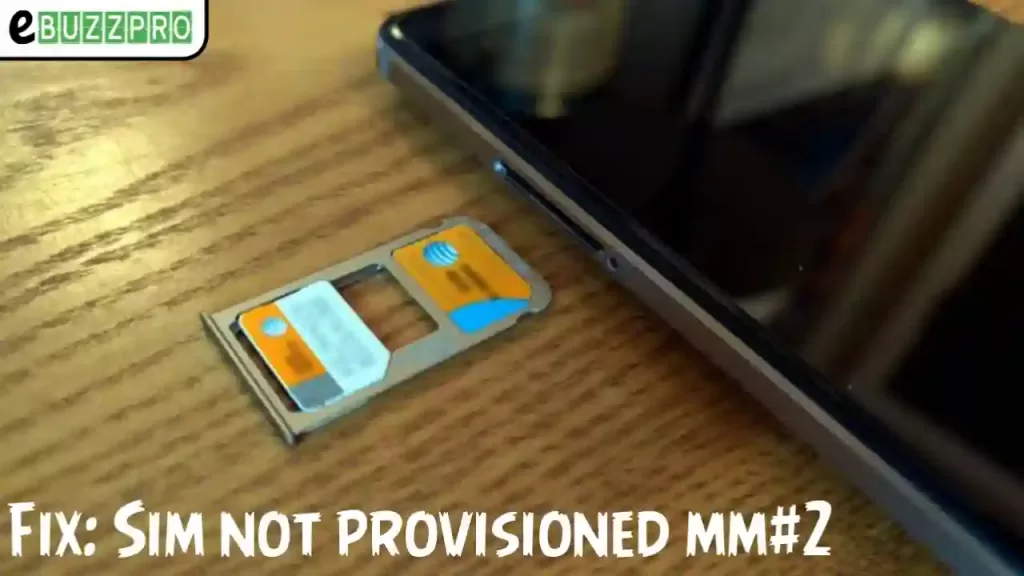 What is "Sim Not Provisioned MM#2" Error?
First of all let me tell you that many people want to know that why this error comes after all? So I would like to tell you that this is a common problem. And this is mostly seen then. When you buy a new phone with Sim Card.
Either you transfer your number to the new Sim Card. In such a situation, this Sim Not Provisioned MM # 2 Error shows only emergency calls option in your phone's display. In such a situation, you are unable to call or message anyone.
But let me tell you that if the same error is coming in your phone as well. So you can use other features of your mobile phone without any interruption. But you will have to face this error while doing Calling and other Sim related tasks.
Also Read | How to Remove Background from Image in Android?
5 Ways: How to Fix "Sim Not Provisioned MM#2" Error?
Maybe you do not know what is the main reason for this? So you should know that the main reason for sim not provisioned mm#2 is that your sim card is not activated or your phone is not supporting your sim card. In such a situation, when you ever buy a new SIM card, then this error often comes along with it. But you don't need to worry at all.
1. Enable Airplane Mode
If you are also troubled by this sim not provisioned mm # 2 samsung. So for this you have to first enable Airplane Mode or Flight Mode in your mobile phone. For this, you have to first open the notification panel. From there you have to enable Airplane Mode and disable it after some time. You probably got your issue fixed. If there is still an error then read below!
2. Restart Phone
If sim not provisioned mm2 problem in your mobile phone comes even after enabling Airplane Mode. So now you have to restart your mobile phone. Now when your phone is closed and will open again. So now the network should come in the SIM in which the issue was in your mobile. But in some situations, this method may not even work in your phone. So read more below.
3. Reinsert Sim Card
Friends, if none of the above two methods have proved to be effective. So in such a situation, now you have to take out the SIM card from your phone. Then again this SIM card has to be inserted in your phone. Now your phone has to be restarted again. When your phone is opened then your problem will be solved.
Also Read | How to Read Deleted Messages on Whatsapp by Sender?
4. Use the SIM Card in Other Devices
If still you are still facing Sim Not Provisioned MM#2 error in your phone. So let me tell you that now in whichever SIM card you are facing the issue. You have to check that SIM card by putting it in any other phone. If the SIM card is correct then it will work in other phones. Otherwise there is a problem with the sim. Read below for more information.
5. Contact Your Service Provider
Now I would like to tell you that if you have applied all the above mentioned methods. And still you are facing Sim Not Provisioned MM#2 Error. So I would like to tell you that now the last way is that you have to contact that network service provider of yours. Which company provides you the SIM card? He will give the last suggestion and you will have to follow it.
Also Read | How to Send Money from Paymaya to Smart Padala?
---
Conclusion – Friends, you have got this "5 Ways: How to Fix "Sim Not Provisioned MM#2" Error?" How was the article? Do tell us by commenting below. And if you like this post, please share it as much as possible.
Join Instagram, If You Like This Article Follow Us on Twitter, Facebook, Join Telegram and Subscribe Our YouTube Channel. We Will Keep Bringing You Such Updates.