Way to Enable Dark Mode in Snapchat – Hello friends! Welcome to the eBuzzPro.com blog. And in today's article we will know "How to Enable Dark Mode in Snapchat"? There are many questions related to Snapchat here. Where on the one hand the Snapchat App is becoming very popular all over the world.
On the other hand, more than one features are being rolled out in the Snapchat App. One of these features is Dark Mode. The Dark Mode feature in the Snapchat App has been made available for Android and iOS. The same dark mode is now available for Snapchat Android as well as Snapchat dark mode for iPhone.
Also Read | How to See Birthdays on Snapchat?
A lot of friends were asking us by commenting that, can dark mode be enabled in Snapchat in Android without root? So let me tell you that in the latest version of Snapchat, you can easily enable dark mode. So below I have told you that "How do I get dark mode on my Android"?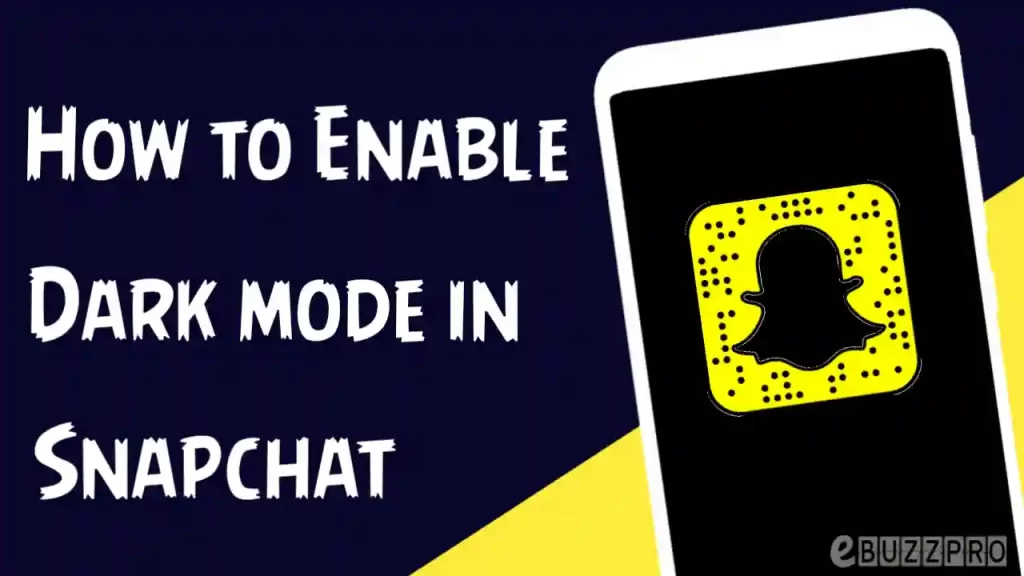 How to Enable Dark Mode in Snapchat 2022?
Open Snapchat App on your phone.
To go to the profile in Snapchat, click on Bitmoji in the top left corner.
Here click on the Gear (⚙️) Icon on the top right corner.
Now scroll down and click on App Appearance.
Here you select Always Dark.
Now Dark Mode has been enabled in Snapchat.
How to Get Dark Mode in Snapchat on Android?
However, it is being said from Snapchat that they will soon enable Darkmode in Snapchat for Android. But such people cannot be tolerated. So you must follow the steps given below once. And Samsung users are also asking about how to enable dark mode in Snapchat in Samsung?
First of all go to the Settings (⚙️) of the Android phone.
Scroll down and click on Display to Toggle On Dark Mode.
Now go back to Settings and click on About Phone.
Here scroll down and click on Software Information.
Here Build Number will appear, click on it 6 times in a row.
Now Developer Options will be enabled in your phone.
Toggle on Force Dark Mode by clicking on Developer Options.
Dark Mode in Snapchat – FAQ
Q 1. Is there Dark Mode in Snapchat?
Ans – Yes, Now Dark Mode is Available in Snapchat. to enable dark mode in snapchat go to snapchat profile>settings>App Appearance>Always Dark.
Q 2. What if I don't have app appearance on Snapchat?
Ans – If you don't have app appearance on Snapchat. then go to settings on android>Display>Toggle On Dark Mode>Enable Developer Options>Toggle On Force Dark Mode.
Q 3. Can Samsung have Dark Mode on Snapchat?
---
---
Conclusion – Friends, how did you like this "How to Enable Dark Mode in Snapchat" article? Do tell us by commenting below. Also, do share the post with your friends.
Join Telegram, If You Like This Article Follow Us on Instagram, Twitter, Facebook and Subscribe Our YouTube Channel. We Will Keep Bringing You Such Updates.